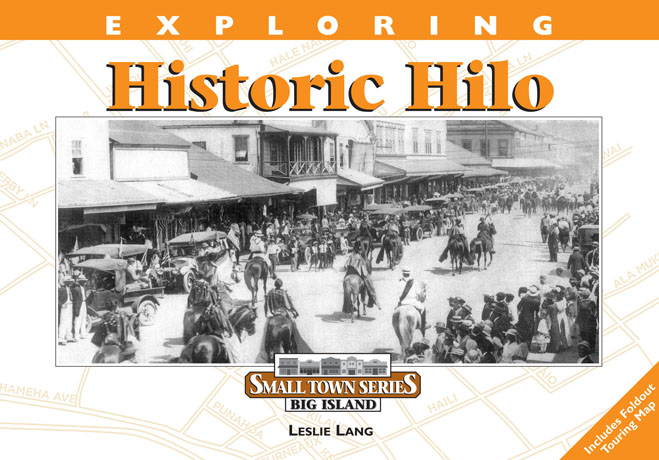 EXPLORING HISTORIC HILO
by Leslie Lang
Watermark Publishing, April 2007
Paperback, 128 pages
ISBN-10: 0977914364
ISBN-13: 978-0977914364
$8.95
Explore the historic town of Hilo with this new addition to Watermark Publishing's Small Town Series. This site-by-site guide captures the rich heritage of the plantation town by the bay and shows readers where to find the vestiges of Hilo's fascinating past amid its current-day growth. Each photograph—many from private collections and never before published—is keyed to a location on a foldout walking map. Take a journey through the town's unique history. See the Hilo Boarding School irrigation ditch that provided the town with its first electricity; the railroad station located near the Wailuku River's "singing" bridge, prior to the 1946 tsunami; and the Saturday morning "Mickey Mouse Club" showings at the Palace Theatre beloved for a quarter-century by Hilo children. Foreword by Hawai'i County Mayor Harry Kim.
---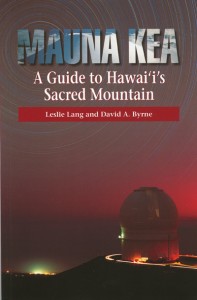 MAUNA KEA
A Guide To Hawai'i's Sacred Mountain
by Leslie Lang and David A. Byrne
Watermark Publishing, 2005
5 1/2″ x 8 1/2″, 152 pp
Softcover
ISBN: 0-9753740-5-2
$17.95
A Cradle of Hawaiian Culture and the World's Premier Observatory
Rising 14,000 feet into the clear skies of the Big Island of Hawai'i, Mauna Kea is a special place—a sacred mountain to be approached with reverence and respect. Beneath Mauna Kea's often snow-capped summit are historic Hawaiian sites, rare flora and fauna, spectacular vistas and, for astronomers, the best base on Earth for exploring the universe. Co-written by Mauna Kea Visitor Information Manager David A. Byrne, this official guidebook of the Onizuka Center for International Astronomy includes in-depth information and detailed maps on sacred sites, natural history, recreation, ecology, sightseeing and important technical data on the 13 world-class telescopes at the mountain's summit.
---
BAMBOO RIDGE, Issue 81
Leslie's short story "The Laughing Wind" appeared in Hawai'i's literary journal Bamboo Ridge, Issue 81 (October 2002).