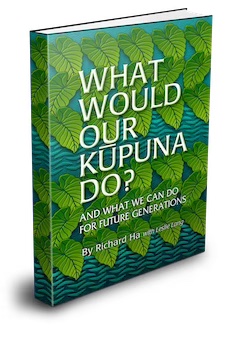 WHAT WOULD OUR KUPUNA DO? AND WHAT WE CAN DO FOR FUTURE GENERATIONS
by Richard Ha with Leslie Lang
Richard Ha, June 2022
Paperback, 175 pages
ISBN-13: 979-8218019457
What would our kūpuna (ancestors) do about how vulnerable we are here in Hawai'i to oil supply problems? They were wise and practical people. How would they have used our resources? We are nearing the time when we will have used up half of the world's oil, and the remaining half will be increasingly hard to tap.
In this book, I discuss 1) Growing up in a Hawaiian family and how that shaped my thinking, 2) Watching as the price of oil—and our farming costs—started to skyrocket and impact everything and everybody, and 3) Specific areas to focus on right now (especially the Thirty Meter Telescope and geothermal energy) and how they will make Hawai'i Island more sustainable for our descendants, so they don't have to leave the islands to have a better life. We, too, are somebody's ancestors. It's time to make wise decisions for the benefit of our future generations.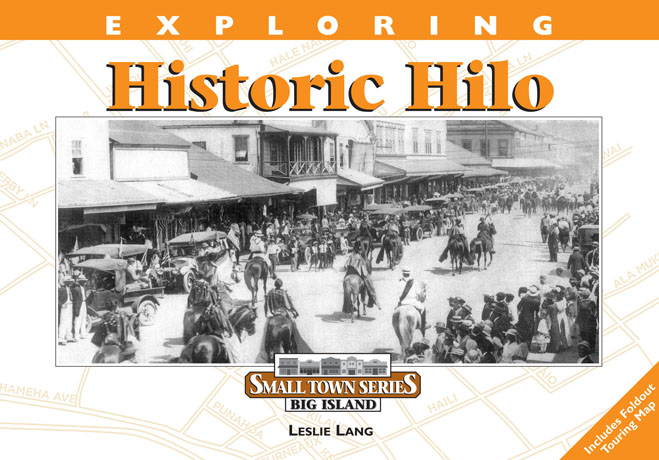 EXPLORING HISTORIC HILO
by Leslie Lang
Watermark Publishing, April 2007
Paperback, 128 pages
ISBN-10: 0977914364
ISBN-13: 978-0977914364
$8.95
Explore the historic town of Hilo with this new addition to Watermark Publishing's Small Town Series. This site-by-site guide captures the rich heritage of the plantation town by the bay and shows readers where to find the vestiges of Hilo's fascinating past amid its current-day growth. Each photograph—many from private collections and never before published—is keyed to a location on a foldout walking map. Take a journey through the town's unique history. See the Hilo Boarding School irrigation ditch that provided the town with its first electricity; the railroad station located near the Wailuku River's "singing" bridge, prior to the 1946 tsunami; and the Saturday morning "Mickey Mouse Club" showings at the Palace Theatre beloved for a quarter-century by Hilo children. Foreword by Hawai'i County Mayor Harry Kim.
---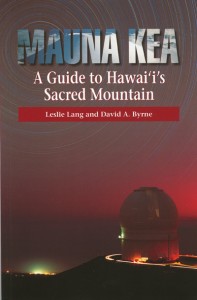 MAUNA KEA
A Guide To Hawai'i's Sacred Mountain
by Leslie Lang and David A. Byrne
Watermark Publishing, 2005
5 1/2″ x 8 1/2″, 152 pp
Softcover
ISBN: 0-9753740-5-2
$17.95
A Cradle of Hawaiian Culture and the World's Premier Observatory
Rising 14,000 feet into the clear skies of the Big Island of Hawai'i, Mauna Kea is a special place—a sacred mountain to be approached with reverence and respect. Beneath Mauna Kea's often snow-capped summit are historic Hawaiian sites, rare flora and fauna, spectacular vistas and, for astronomers, the best base on Earth for exploring the universe. Co-written by Mauna Kea Visitor Information Manager David A. Byrne, this official guidebook of the Onizuka Center for International Astronomy includes in-depth information and detailed maps on sacred sites, natural history, recreation, ecology, sightseeing and important technical data on the 13 world-class telescopes at the mountain's summit.
---
BAMBOO RIDGE, Issue 81
Leslie's short story "The Laughing Wind" appeared in Hawai'i's literary journal Bamboo Ridge, Issue 81 (October 2002).