"You're a freelance writer in Hawai'i? Really?!" I hear this occasionally and realize that what I do sounds pretty plush to people who aren't freelancers.
I get it. They like thinking about not having to get up early to clock in at a non-dream-job. I can sleep in and wear what I want every day, they are thinking. And on top of all that, HAWAI'I, where the crystal clear ocean is warm like a bathtub, and sea turtles swim lazily alongside you, and there are gorgeous sunsets.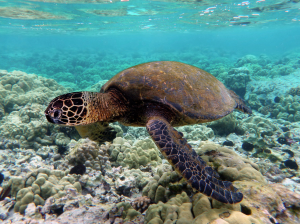 Some of that is true. But other freelance writers understand how this lifestyle really works. Let's look at some of those assumptions.
Sleeping late!
I could sleep in but I usually don't, because I'm running a business here. I keep fairly normal business hours most of the time, because that's what works for me. The regular hours keep me sane – I don't have to worry about when my work is going to get done. And it works, too, because there are people I need to interact with, and most of them are available during regular business hours. Of course, there is some flexibility, though, and if I were feeling a little under the weather, I could sleep an hour or two later and make it up on the other end without needing to get anybody's permission.
Working in pajamas!
I don't do that; I get dressed. When I switch on my business head, I don't want to look down and see pajamas. Pajamas say bedtime, not "book contract."
Time off whenever you want!
Yes, I can take time off and help chaperone a school field trip, or see a friend who's suddenly in town on a weekday. But then I usually make up the time later, because I keep my work calendar comfortably full. Many weeks I work more than someone who clocks in from 8 to 5 (does that surprise you?). I'm trying to change that.
Writing when the muse strikes!
No. Writing when the assignment needs to get done.
There are days when I come into my office in the morning and flip on the light, work without hardly leaving my chair except to flip the light off a little later when it's bright outside, and then work until the sun has meandered off and I need to turn on the light again. Successful freelancing takes a lot of work, and unlike an employee, a freelancer handles everything. Not just the work, but also obtaining, invoicing for and collecting for the work, and the accounting and the taxes and the retirement plan and the IT and the website and the marketing and the purchasing and the social media and the public relations and paying for the medical/dental coverage. I really just want to write, but it doesn't work that way. A friend of mine lists herself on Facebook as her company's CEO & Janitor. True.
Bottom line? I love freelancing and I like doing it here in Hawai'i. I like having some flexibility, but this is a real business I'm running here and I work hard. I'm tired at the end of my workday. No bonbons are being consumed, and if you call me you will not hear Oprah's voice coming from a TV in the background.
I should get out and enjoy that ocean and the sunsets (or sunrises) more. Right now, though, you know: I've got work to do.