A while back, I was asked to contribute to an upcoming book called "Writing the Hawaii Memoir," by Darien Gee, and today I received a copy of the book in the mail.
I love the cover, designed to make it look like a Hawaiian composition book. Isn't it great?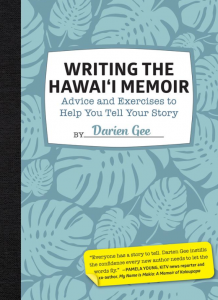 The subtitle is "Advice and Exercises to Help You Tell Your Story," and Darien did a great job putting it together.
From Watermark Publishing:
"Your life is so interesting. You should write a book!"

Sound familiar? Thinking of writing your memoir or family history but don't know where to start? In this invaluable how-to book with tips from more than 20 Hawaii writers and 25-plus writing exercises, you'll learn how to:

– Brainstorm different themes and ideas
– Build a "bento box" and explore other ways to organize your memoir
– Overcome writer's block and other challenges
– Deal with issues of libel, "talking stink" and copyright infringement
– Choose the best way to publish your book
– Stay encouraged and motivated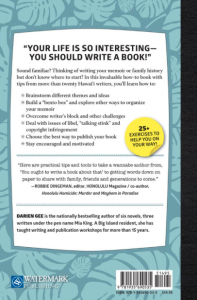 Contributing writers include: Billy Bergin, Pamela Varma Brown, Bob Buss, Lee Cataluna, Ben Cayetano, Stuart Homes Coleman, Craig Howes, Patricia Jennings, Frances Kakugawa, Victoria Nalani Kneubuhl, Beth-Ann Kozlovich, Leslie Lang, Gail Miyasaki, Warren Nishimoto, Mark Panek, Laurie Rubin, Phil Slott, Christine Thomas, David Ulrich, Chris Vandercook and Cedric Yamanaka.
Darien is great. She's the nationally bestselling author of six novels, three written under the pen name Mia King. Her books are translated into fourteen languages and the Doubleday, Literary Guild, Rhapsody and Book of the Month Club book clubs all chose them. She also writes about writing and creativity in her column, "Writer's Corner," which appears every week in North Hawaii News, and she teaches writing classes in private seminars and community college programs. She lives on this island and though we haven't yet met in person, we've been acquainted and "chatted" for years now. 
The book looks great and I am eager to read it. I can tell that it's not fluff—this will be a truly useful book for anyone delving into writing about their life. Darien is an excellent writer and she knows her stuff.
Here's one of my contributions to the book:
"Include details, and go deeper. How did the thing you're remembering look, feel, sound, smell or taste? What did it always remind you of? How did your great-aunt always describe it? Looking back, did it fall into some sort of pattern or theme of your life? What is important about it?" – LESLIE LANG
If you're interested, you can order the book here.