I wrote about vog recently and the article is out in the current (August 2009) Honolulu magazine.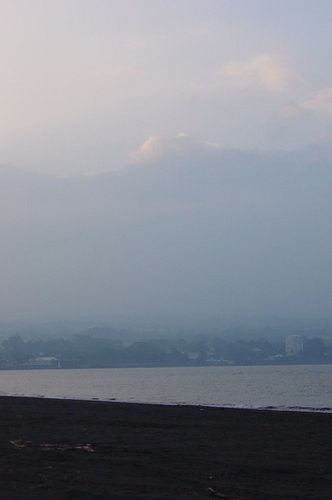 Here's how it starts:
It comes on the Kona winds—the dreaded yellow-brown haze of vog that makes eyes burn and lungs protest. On the Big Island, of course, it has done far more damage. How bad could it get? And what do we really know about vog and its effects?
Three-thousand, eight-hundred people lived on Miyakejima, a small island off Tokyo, until one day in September 2000, when the Japanese government ordered the island evacuated because of extreme volcanic activity. As directed, people delivered their pets to the port by 9:30 a.m., packed some belongings and a lunch and then boarded a city bus for the ship.
It was more than four years before they were allowed to return home. (Read the rest here)
That was some pretty extreme vog they had there. When researching this article, I learned that our Big Island vog—when it was at its worst last summer—was only a tenth of what they experienced on Miyakejima. The lesson? I don't know what the lesson is. But remember this: It could actually be worse!
It's hard to remember when our air looks so thick it seems you need to push your way through it with your hands.