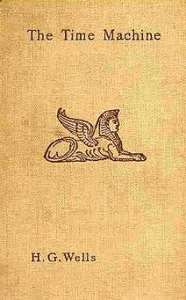 Don't you want time travel to be real? I do. How interesting would that be?!
This article, All The Evidence that Time Travel is Happening All Around Us, is really fun. It opens with a clip from a 1928 Charlie Chaplin movie that shows an extra walking down the street that seems to be talking on a cell phone, which someone only noticed in 2010. There's a clip from a 1938 movie that shows something similar, too.
My thought: Who would these people that had cell phones, long before cell phones existed, have been talking to?
There are some other good stories on that page. Some are ridiculous and others are fun to lightly contemplate. I'm not a nutter, don't worry. But I love thinking about it.
And in the meantime, until someone clears it all up for me, I will continue to enjoy good time travel books.
I am, for instance, a fan of Diana Gabaldon's Outlander series of books. A friend and I were talking about these books today. If you aren't familiar with the series, it starts when a 20th-century English woman leans against an ancient Scottish stone circle and passes out. When she awakens, she sees what she thinks are period actors around her—but it turns out she's traveled two hundred years into the past. Gabaldon is a great storyteller and the books are also wonderful novels of historical fiction. Very fun to read (or listen to. The audiobooks in that series have a great reader).
My daughter and I thoroughly enjoyed reading aloud Madeleine L'Engle's A Wrinkle In Time before bed; I remember this book fondly from my own childhood. Now we are working through its sequels (we're listening to A Swiftly Tilting Planet in the car right now). Those are great time travel books for kids.
And there's The Time Traveler's Wife, that was fun to read, and I haven't read H.G. Wells's The Time Machine in decades—better reread that—and I also enjoyed Stephen King's book 11/22/63. That book is very different from his other books: it's heavily researched historical fiction. He sure knows how to tell a story.
Flavorwire has an interesting article called A Brief History of Time Travel Literature:
A Brief History of Time Travel Literature
Yesterday, Stephen King's newest work, 11/22/63, a novel about a man who travels back in time via a storeroom to stop the JFK assassination, hit shelves. Inspired by this newest addition to the time travel literature genre, we got to thinking about a few of our favorite time travel stories, and particularly about all of the different ways those fictional mortals manage to thrust themselves back and forth in space-time. From our vantage, there are a few types of time travel that we see used over and over again: mechanical (time machines and the like), portal-based (stepping through some sort of floating hole in the space-time continuum), fantastical (ghosts or other unbelievable phenomena), magical/item-based (some sort of artifact that holds the power of time travel), and the simply unexplained (because why does it matter? Get to the cool future stuff already). There are hundreds of novels and short stories about or involving time travel, so these are a few of our favorites, plucked both from the beginnings of the genre and from contemporary literature.
This CNN article is called Time Travel: Can It Really Be Done? and is science-y. Did you know that "time runs a little bit faster on the roof, where gravity is imperceptibly weaker, than in the basement, for example"?
This article from Huffington Post is a fun read, too—it's one columnist's take on The Top 10 Time-Travel Books. I'm taking notes.