I was already a huge believer in reading and writing and the power of it all, but have a look or listen to this woman from Nepal, who was a child bride and didn't learn to read until she was 21, and tell me it's not magic.
The story she tells her story is enormous and beautiful. Now that is someone who has learned to appreciate the power of the alphabet. Wow.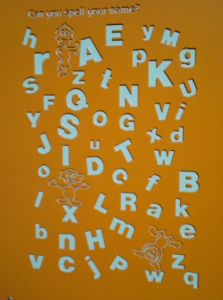 It's another This I Believe story from over at NPR. What an amazing collection of essays they are gathering, saving, sharing. People have the most incredible stories. I think everybody probably has one. This woman's story really struck me.
From her essay, which someone else read in English:
Before learning how to write, my life was like the nearby Indrasarovar Lake, always stagnant. I had the pain of child marriage, my husband did not support me, abject poverty was my way of life and I didn't have any skill or courage to do anything. But I saw that the number of people learning to read and write was growing and their lives were improving. I then realized it was neither wealth nor beauty that I lacked, but letters.
Powerful.
There's a TED talk by Isabel Allende, one of my favorite authors, in which she discusses passion and also women. Specifically, the plight of women in much of the non-privileged world and it made me think about this one Nepalese woman's words.
Allende's talk is really worth a listen. It's humorous (she says someone asked Sophia Loren how she can look so sexy in her 70s, and she replied something like, "Posture. My spine is always straight. And I don't make old people noises") and also poignant and important. Listen to it here.