This press release just arrived about the Stephen Grogan mystery Vegas Die. It's the previous novel of an author I did some editing for recently.
The editing I did was for his next book, Captain Cooked, which is, of course!, a culinary mystery set in Hawai'i.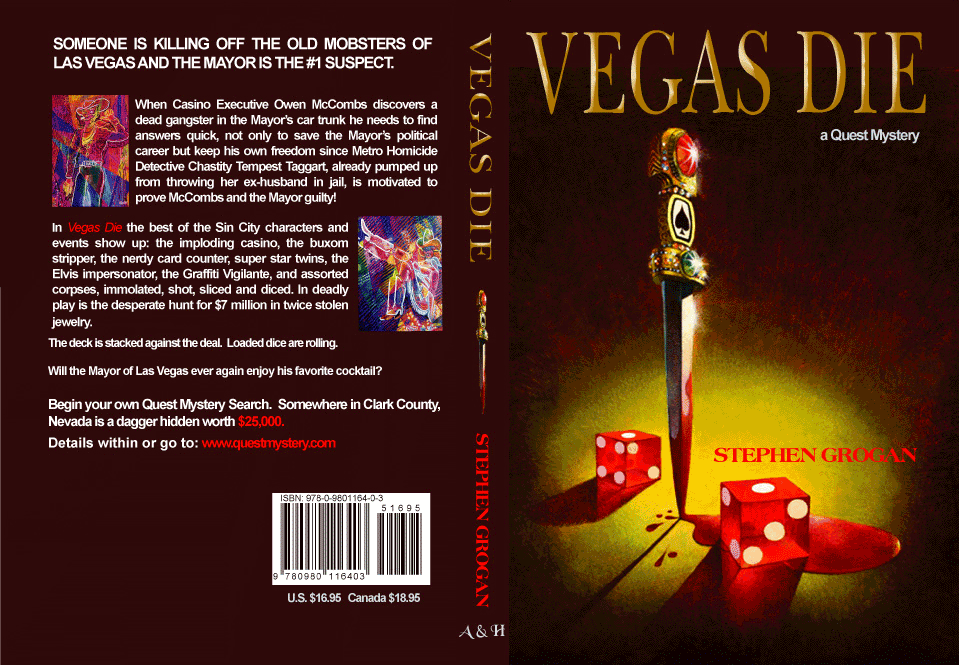 The $25,000 murder weapon is not at the bottom of the ocean near the ship-wrecked Titanic, nor was it dropped in Lake Mead at Hoover Dam. And you can't locate the hidden dagger by putting the best-selling mystery, Vegas Die, under your pillow and hoping the answer leaks into your brain while you're sleeping.

But some have made those guesses.
This week, Publisher Addison & Highsmith has released an abbreviated list of the most unusual Questor guesses in search for the elusive dagger worth $25,000, and they can be found at: www.QuestMystery.com. 
Represented are only a few of the hundreds of official guesses received to date in the search of the $25,000 treasure, the clues located in the book, Vegas Die, by Las Vegas author, Stephen Grogan.  Promoted as a three year 'Quest Mystery', the hunt is entering its second year with searchers, known as 'Questors', emailing in their analysis of clues to be found in Vegas Die.
The book has garnered positive reviews, and on its way to becoming a cult classic, with a plot featuring the Mayor of Las Vegas as the #1 suspect in mob murders.  Says author Grogan, "My intention was to create an interactive book in this multi-media society, one where you read the book first as a mystery, and see no clues, then as a treasure hunt where clues rise from the pages. And with a 3 year contest time limit the book offers longer shelf life of interest."
To date, states publisher Addison & Highsmith, Vegas Die has become a favorite of tourists, those seeking a take-home souvenir instead of casino shot glasses or Strip postcards.  The $16.95 mystery is one of the top selling books at Las Vegas McCarran Airport, selling over 700 books at one book store alone since January.
Many of the Questor guesses are reasonable, such as "The Dagger is on Black Mountain, under the letter 'B'." Or, "The Dagger is located in the middle of Duck Creek trail, next to Sam Boyd Stadium."
 Some guesses are a little strange. "The Dagger is located within the large blue elephant at King Putt Mini Golf."  Or, "The dagger is a rose bush at or around one of these gardens…"
And beyond strange.
"I have another guess," writes a dedicated Questor, "The mayor has a package for me, and I need to go pick it up. Because he has the Dagger!"
Another writes, "The DAGGER  is a standing microphone used by standup comic Jerry Lewis."
Then there was the one Questor who wrote a several page explanation of location that boiled down to: "Enough of games. I know what you are looking for. I can prove who I am. I have a birth mark on my inner left leg and the mark in my left hand. I am the dagger. But before you contact anyone and tell them you found me, contact me first."
Is author Stephen Grogan nervous about the variety of Questors out there tearing apart the clues in Vegas Die, certain they will be the dagger's discoverer?
"So far, all the Questors have been quite enthused and dedicated," said Grogan, "and I have made quite a few friends. It is to be expected there will be frustration for Questors if there is no quick solution.  In truth, I hope someone finds the dagger prize. It will validate the Quest Mystery concept, and open the door to the sequel I am writing."
In these tough economic times, wouldn't $25,000 come in handy, even it means treasure hunting for a murder weapon? 
Vegas Die (ISBN:978-0-9801164-0-3) $16.95. The mystery is available by ordering through most national bookstore chains or at Amazon.com or signed copies at www.QuestMystery.com 
For further information visit "Press Kit" at www.QuestMystery.com or contact Addison & Highsmith Publishers, (702) 759-0002 or fax (702) 759-0003. Email: AddisonHighsmith@gmail.com.  For author interviews contact: (702) 303-5915 or email: grogan.sp@gmail.com.