I'm sure Twitter can be used stupidly, and that's where some people are stuck; they only know that reputation.
But it can also be used splendidly, and there isn't really any way to understand that unless you get in there and see it for yourself.
Here is a word cloud of the people who "follow" me at Twitter. It's made from the bios of people who are following me (I created it by inputting my Twitter name at TwitterSheep.com). "Following me" means they receive my "tweets," the 140-character or less messages that I post at twitter.com. You can see that they mostly move in parts of my own world.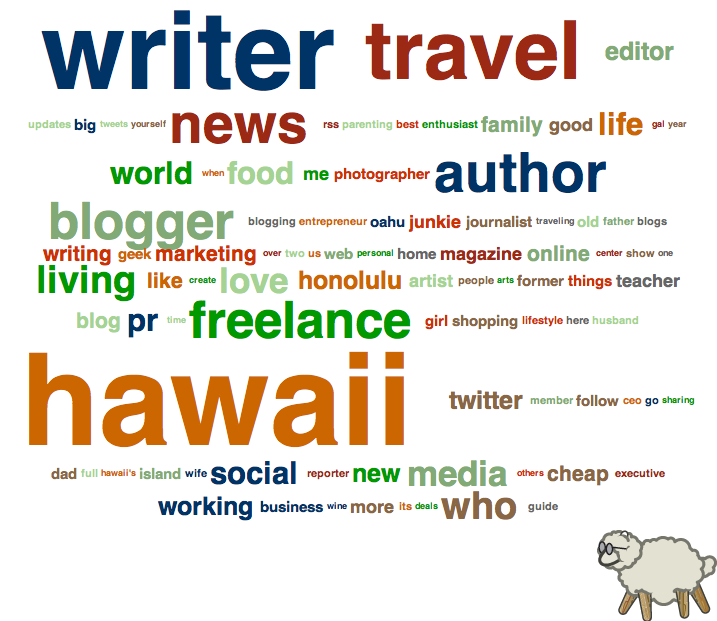 Except for the person whose bio includes the word "junkie." I'm not sure what that's all about. It's probably something like "coffee junkie." "Word junkie." Something like that.
Twitter can be an absolutely amazing business tool. I use it for business, and sprinkle in some personal interactions too. 
Guy Kawasaki wrote about how to suck people into Twitter. His words:
One of the great challenges for anyone who loves Twitter is to show other people why they should love it too. Often it's like explaining something you find funny: "You had to be there." The contextual, ever-changing, and high-volume nature of Twitter makes explaining it difficult. Here are ten tips to help you demo Twitter to your friends, family, and colleagues….
I wanted nothing to do with it for a long time, but finally created an account when I saw people were doing good marketing with it. One of my first messages expressed total amazement: "You guys have a whole alternate universe going on here!"
It is incredible what you can learn on Twitter. Follow the people who are doing things you are interested in, who move in the worlds you want to know more about, and you will be blown away. News travels faster on Twitter than you will believe.
I'm not offended if you aren't interested in Twitter. But if you're curious about it, check it out. There's a lot going on there.