We are having a tsunami today, it seems. The first wave is expected to arrive in Hilo any time now. Hilo is supposed to get the first, and biggest, of the waves. The radio says that the water in Hilo Bay is starting to draw back. Tsunami in real time.
Click on this image to go to KHON video of the tsunami.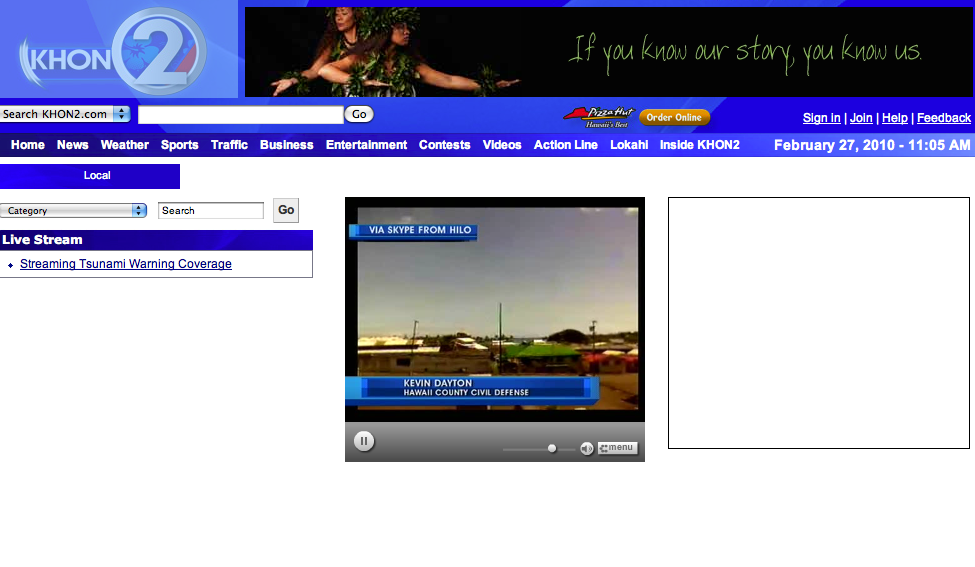 We live up the mountain a little way, and some good distance from the ocean, so we are in no danger here.Thank goodness for the warning this time. Preparations have been extensive here, with civil defense sirens going off every hour since 6 a.m., and mandatory evacuations from coastal areas in effect. Hopefully, the island is prepared.
In the past, downtown Hilo, and certain other spots, have been destroyed and many people killed, back before there were warning systems in place. Most recently, downtown Hilo was destroyed by tsunami in 1946 and again in 1960.
I cannot even imagine what a magnitude 8.8 earthquake would feel like. Absolutely terrifying, I'm sure. My hearts go out to the people in Chile.
Live tsunami video, too, from www.bjpenn.com.