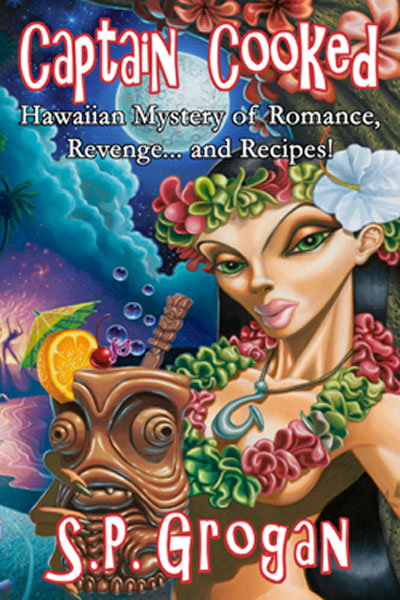 Listen, there's a new book out and it's an island culinary/romance/mystery novel that got me at its great title. It's called Captain Cooked.
Full disclosure: I know about this book because its author, Steve Grogan, hired me before publication to review it for Hawaiian cultural accuracy. It's set here on the Big Island, and he wanted to make sure he had his Hawai'i facts down.
And so I got to read it early on, and saw that it's really a fun read. Included throughout the book are really interesting island-related recipes. There's also geocaching and more. And get this: He has hidden a shark-teeth club somewhere on the Big Island, and the book contains clues as to its location. Find the treasure and win $5000! This book really has it all! (Don't ask me where the treasure is. I really have no idea.)
He did a similar thing with his previous book, a mystery titled Vegas Die. (Great book titles, huh?!) Nobody found the hidden dagger. Read where it was.
Vegas Die, published by Addison & Highsmith Publishers, has gained recognition as a "Best Seller" in the West, with its special twist featuring a dagger worth $25,000 hidden somewhere in the Las Vegas Valley, with clues to be found within the book. The fictional plot centers around the murders of retired mobsters with the Mayor of Las Vegas becoming the #1 suspect.
Back to his current book: Steve Grogan is going to be here, on the Big Island and O'ahu, signing books, and you should swing by. I'm going to stop by when he's at Basically Books in Hilo on Saturday. He is an interesting guy and you should stop by, say hello and pick up a book, which he'll sign for you.
If you cannot make a signing, you can order Captain Cooked online.
Captain Cooked Book Signing Tour Dates
Big Island
Saturday, February 19th Borders Bookstore, 75-1000 Henry Street in Kailua-Kona 10:30 am (808.331.1668)  — Tentative–check with store
Saturday, February 19th at Basically Books 160 Kamehameha Ave. in Hilo 2 pm (800.903.6277)
Sunday, February 20th   10am, Big Island Geocachers at Island Lava Java restaurant, 75-5799 Ali'i Dr., on Kona Bay in Kailua-Kona – Public welcome
Sunday, February 20th Royal Kona Resort with book cover Tiki artist Brad Parker, 4 pm to sunset,  75-5852 Ali'i Drive, Kailua-Kona
Tuesday, March 1st, Kona Stories in Kailua-Kona 6 pm 'Words & Wine,' Keauhou Shopping Center,  78-6831 Ali'i Drive (808.324-0350)
O'ahu
Friday, February 25th,  Pau Hana Meet & Greet with O'ahu Geocachers, 6-8 p.m.  at Kaka'ako Kitchen, 1200 Ala Moana Blvd. (Ward Centre)—Free, public welcome
Saturday, February 26th at Barnes & Noble in Ala Moana Center 1450 Ala Moana Blvd. Suite 1272   11am-2pm (808.949.7307)
Sunday, February 27th at Barnes & Noble at Kahala Mall 4211 Waialae Avenue   (808.737.3323) 1:30 pm-3:30 pm
Please contact book stores and locations to verify times
Please note: due to the impending Borders Chapter 11 bankruptcy filing the Honolulu book signings were cancelled and adjust your calendar accordingly.
Some of the press the book has received so far, and store announcements:
Captain Cooked Recent News Articles, Blogs, Book Store Postings

— as of February 1st, 2011

Craig's List

http://honolulu.craigslist.org/big/eve/2177754916.html
Honolulu Star Advertiser

http://www.prlog.org/11261704-captain-cooked-book-review-by-star-advertiser.html
Big Island Chronicle

http://www.bigislandchronicle.com/2011/02/01/hawaii-news-get-your-copy-of-captain-cooked-autographed-in-upcoming-book-signing-tour/
Hawaii Life of Luxury

http://www.hawaiilifeofluxury.com/captain-cooked-mystery-book-by-s-p-grogan/
Hawaii Book Blog

http://www.hawaiibookblog.com/?p=5090
Hawaii Star

http://www.hawaiistar.com/2011/01/captain-cooked/
Big Island – Big Island Blog

http://www.bigisland-bigisland.com/author-of-captain-cooked-book-signing-dates-proceeds-to-food-basket-program.html
News Blaze review

http://newsblaze.com/story/20101001054427clar.nb/topstory.html
You Tube Video

http://www.youtube.com/watch?v=8K9g3GglE-Y
Craig's List

http://honolulu.craigslist.org/oah/eve/2153723051.html
Native Books – Na Mea Hawaii

http://www.nativebookshawaii.com/shop/index.php?main_page=product_info&cPath=1_12&products_id=4008
Basically Books – Hilo

http://www.basicallybooks.com/upcomingevents.html
The Big Island's Food Basket Calendar

http://www.foodbaskethi.org/index.php/calendar/
Kahakai Kitchen Blog

http://www.wellsphere.com/healthy-cooking-article/alan-wong-s-whole-tomato-japanese-cucumber-salad-with-li-hing-mui-vinaigrette-for-local-foodie-mystery-captain-cooked/1189654