My good friend Don Falk was just telling me a goosebumps-inspiring tale about researching his family's history.
He and his brother now have 56,000 names, and many stories, on their family tree; clearly theirs is not a casual endeavor, but an intense one filled with travel and heavy research. His brother Stephen Falk's History of Genealogy blog details their research.
One of the goals is to keep a running account of new discoveries — discoveries which are as likely to be new interconnections between the Jewish families (or families of Jewish ancestry) of Breslau, towns in Silesia (e.g. Brieg, Namslau, Staedtel, Zuelz, Kreuzburg, Cosel, Kieferstaedtel, Myslowitz, Tarnowitz, Beuthen, Oppeln, Krappitz), and towns in Posen (e.g., Posen, Lissa, Rawitsch, Kempen, Inowroclaw), as discoveries of new ancestors or distant cousins. 
Don told me about visiting an archive in Berlin in 2011 and discovering at the very last minute – as the offices were about to close, on their last possible visit there before leaving Germany – that a distant, previously unknown half-great-great-uncle had given a multi-generational family tree to the archives.
He and his brother were so excited, he said. They were like excited little kids. They stayed up late putting newly-found ancestors onto their computerized family tree, saying each name aloud in an act of remembrance.
He says that it was as though Uncle Curt left them a time capsule.
A time capsule! This Uncle Curt from the past took what he held as important, and left it with an archive for – well, he did not know for whom he was leaving it. But he left it anyway, and generations later it was received with joy and delight and thanks, more than he probably ever would have imagined.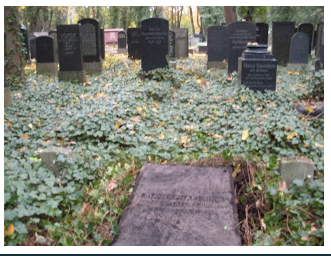 When he did this, Uncle Curt didn't know there were people yet unborn who would think about him because he'd done this. He didn't know they would be so excited and so grateful. He didn't know that, because of clues he left in this "time capsule," his descendants would finally be able to locate their great-grandmother's grave – to push back 70 years of ivy from atop her gravestone and find her.
All because of his information. His time capsule.
This is what happens when you go a step beyond. When you gather your family stories into a book that then sits on bookshelves in several homes, each volume being passed down through the generations, you are creating a time capsule for people not yet born.
You might never know them, but because of the gift you've left behind, they will know you – and your family, and your parents and grandparents and beyond. They will know what you know about how your family got to this point, knowledge that ordinarily dwindles with each generation. They will learn about your values, if you want to share those, and even what you hope for them, the ones to come after.
Leaving a written, family history "time capsule" is a way to leave a significant legacy, even if you are unable to pass along a monetary inheritance. It will probably last longer than most anything else you could leave behind, and be more valued.
Have you heard the saying that people die twice? One time when they leave this earth, and a second time when there's no one left alive that knows their name.
Creating a "time capsule" – organizing what you know about your family's history and leaving it behind for those to come – means that someday, your grandchildren's grandchildren will know your family's stories.
They will know your name.