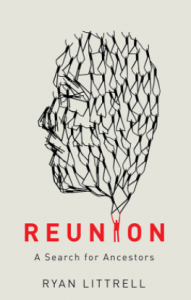 On Facebook a couple weeks ago, I saw an ad for the book Reunion by Ryan Littrell. Its subtitle is "A Search for Ancestors," and it definitely caught my eye. (Isn't Facebook good at targeting its ads!)
I read about the book and then impulse-ordered it.
Turns out it's a good book. I'm glad I did.
I was hooked early on by this passage about looking at a photograph of two nineteenth-century ancestors; this passage almost could have been pulled out of my own head. I think about things like this. Do you?
You can't see in their eyes what you see in a friend who trades a knowing glance with you, because these ancestors never had the chance to know you, and so they never spoke of you, they never cared about you. What would they have thought of you if they were around today? Would they invite you in, like you were some long lost grandchild of theirs, or would they be polite and distant, the way they might treat a strange new acquaintance?
Each of us could ask these questions, but we know that there can be no response. We were never given the chance to know all the ways he would look after us, or how she would smile at us, or how they might have spoken of us, even when it was just the two of them. Our ancestors are never going to return our calls.
But spookily, they're here. Their DNA is our DNA, in us right now, influencing everything our bodies and minds do….
I recommend this book to anyone who is curious about – or is currently researching, or ever has or will research – his or her family's genealogy. Littrell brings the reader along as he researches, travels, meets distant cousins and uncovers the history of his family. It's a great look at, and example of, how to do good genealogical research, and it tells an interesting story, as well.
He includes some Scottish Highlands and clan history. This book will be of special interest to anyone who traces their roots to the Scottish Highlands, and to people descended from McDonalds/MacDonalds or McDaniels/MacDaniels. Though neither of those categories apply to me, and I totally enjoyed it, too.
The synopsis:
Where do I come from? That question sets Ryan Littrell on a journey that crosses centuries and many miles. An anonymous letter, found at the bottom of a box of black-and-white pictures, reveals the first clues about his grandmother's family story, and soon those clues lead him to a country graveyard and a long-lost cousin. Then faded names in old books, along with a DNA surprise, unearth one more generation, and yet another. And as one hint leads to the next, from the 19th century back into the 18th, he discovers his family's place in a people's tragic struggle-a tale of heartbreak, betrayal, and unfailing strength. A real-life account, Reunion shows how our ancestors just might still be a part of us, and how our story began long before we were even born.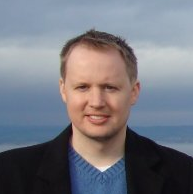 Click for an interview Ryan Littrell did with the family history blog Moultrie Creek Books.
In that interview he discusses one part of his story that I find especially interesting: How he used DNA testing, our newest tool in the genealogy arsenal:
Q. What was your most surprising discovery related to this project?
A. That's a tough question, because there were so many discoveries along the way. But if I had to pick one, it would be that email revealing my uncle's DNA results: Each person who matched my uncle's DNA was descended from a single family that lived for many generations in one particular spot in the Scottish Highlands. My whole life, I'd had no clue where this part of my family had come from. But suddenly, with one cheek swab from Uncle Chuck, we knew the truth.
Reunion is an interesting and well-written book; recommended. If you're interested, buy the paperback here or download the Kindle version here.
If you'd like to know more, here's a short Ancestry.com article by Ryan Littrell about his family history search.
You can follow Ryan Littrell and learn more about him and his book at Facebook.
As always, I hope you'll come back here and let me know if you read the book, so we can talk about it some more!