We went to Hilo Bay Cafe for dinner the other night while my mom was here visiting. That is such a great restaurant – inside it's really got the ambience happening, in spite of its unlikely location in a strip mall adjacent to Wal-Mart, and the food is always so fresh and good.
While there, I talked with them about getting some recipes for an author I'm working with. Stephen Grogan, a Las Vegas author of a previous book called Vegas Die, is, interestingly enough, writing a culinary/mystery novel set here on the Big Island. He hired me to edit the manuscript for Hawai'i references and history and culture.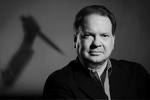 He actually found and hired me through this blog, which proves that blogging is definitely worth the time and effort. We did all our business together by email.
Steve's new book's title is great: "Captain Cooked." How could I resist that? I did the edit, and helped him gather up some Big Island recipes to go into the book too. The chef at Hilo Bay Cafe has agreed to provide a couple recipes, too.
There's an interesting gimmick in Steve's previous book. He hid a dagger somewhere in the metropolitan Las Vegas area, the book provides (kind of hard) clues to its location, and the person who finds it takes $25,000! 
People have been actively seeking it for quite awhile now. There's even a forum where they go to discuss clues and such. 
He's going to do the same thing with Captain Cooked, so stay tuned for how to win your $25,000! I'll let you know when the book is coming out.