We got to the Hawaiian island of Kaho'olawe by first taking an airplane to Maui, then a fishing boat, and then a small Zodiac. We climbed out of the Zodiac and waded over an uneven rocky beach bottom onto shore, trying to stay upright as waves broke against us.
About 70 people were there on that four-day weekend 20 years ago. In addition to college students like me, there were Boy Scouts wearing red t-shirts, and young Hawaiian immersion school kids and their families who all spoke Hawaiian. The first afternoon, I came across a young boy sitting on the beach with his 'ukulele, picking out the theme song to the TV show The Addams Family. Our stay on Kaho'olawe was never as ominous as that suggested, though. It was a very positive experience.
We were being hosted by the Protect Kaho'olawe 'Ohana (PKO), a group working to restore the island that the U.S. military had been bombing for decades. After decades of protests, the Navy's live-fire training exercises ceased in 1990, and the island was transferred to the jurisdiction of the state of Hawai'i that same year I visited: 1994. The Hawai'i state legislature established the Kaho'olawe Island Reserve to restore and oversee the island and its surrounding waters. Today it can only be used for native Hawaiian cultural, spiritual and subsistence purposes.
There were boundaries as to where we could wander, the PKO people told us as soon as we arrived on the island. We could hike about 10 to 15 minutes in each direction, they said, but don't go further than the green beach that way, they said, unless you're with someone who knows it. They spoke about it casually, but you could tell they knew what they were talking about. I had no desire to go where they said not to go. Places were not off-limits for the reasons we're used to. It's not that they were someone else's property; it was that they might still have live bombs on them. Sometimes bullets work their way up in the sand, they said, and don't pick them up because some are live.
But other than that initial warning about what's off-limits, there wasn't much talk or worry about bombs. Hakioawa, the valley that the PKO uses for its home base, had been checked for live ordinance – "cleared" – eight or ten times, someone told me. "Though last time they did find a fire bomb in the back," he said.
That first day, a woman named Kalei gave us a small tour of the camp area. When we got to the men's heiau (temple), only the men went up and we women waited below, and vice versa. The women's heiau, which was much larger but also more exposed to the wind and eroding, is across the riverbed from the men's, and lots of baby rattles and other women's and babies' things have been found there, she told us. And there were burials of babies who didn't make it. She pointed out one area and asked us not to walk on it because a burial had been found underneath. "If it were my grandmother, I know I wouldn't want you walking there," she said. She told us that this place, and a site being covered up by construction of O'ahu's H3 highway, were the only ones known to have heiau situated right across from each other like that.
We hiked up on the cliff to look at the fishing shrine of Ka'ai'ai, and a traditional fishpond, whose shape and function was destroyed by the military. She explained that they bombed large targets they could easily see from the air.
We saw the mo'o that the Hawaiian goddess Hi'iaka fought. She severed its head, which is now a prominent rock on the hill, and she threw its body, which landed directly across on Maui and became a small hill that's easy to spot. The mo'o's tail landed in the channel and now we call it Molokini.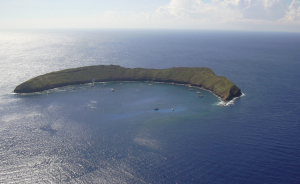 The U.S. Navy, charged with clearing the island of live ordnance now, stays on the other side of the island where all the white sand beaches are, and we never saw them or had any sort of interaction. That other side is also the site of Smuggler's Beach, where opium smugglers used to stop. But the PKO chose this valley for their site because it has the most mana: there are heiau, petroglyphs, and it's where people used to live. It's not the best part of the island physically, one of them said, but it is spiritually.
They asked us to sign two legal releases, one from the Protect Kaho'olawe 'Ohana, and the other from the U.S. Navy. "We've been known to withhold food from people until they sign," the PKO's Hokulani joked, or was she serious? Everybody signed.
It's unusual, as an adult, to be completely dependent on others for your food! But it was never a problem. The kitchen, which was also the gathering place where people hung out, was outdoors and well-appointed with huge gas burners and pots and enormous woks. I helped make egg salad sandwiches for lunch that first day, and there was also peanut butter and jelly, and pretzel sticks, carrots, celery and apple and mango slices. There was always coffee on, a very nice and civilizing touch, I thought.
Dinner that first night was turkey chili with brown rice, and a vegetarian stir fry. There was also cole slaw and fish soup, which was salty – I think they used seawater. There was plenty to eat and it was tasty, in that way that eating outside is almost always better.
After we ate, we went around in a circle and talked. A guy named Peter said he had just graduated from medical school, so he would be the doctor if anyone needed medical care, but only if it was easy. Otherwise, he said, he'd ask the nurse who was along. Someone asked him where he graduated from and he said, "UH." Someone else joked, "So don't ask him any hard questions."
One man talked about growing up on Maui and how his sister used to scream in the night when their windows shook because of bombs exploding on nearby Kaho'olawe. The circle was quiet as he spoke. Another woman, who'd grown up in Lahaina on Maui, said she never dreamed that someday she would be on Kaho'olawe.
Tom told us that the island can tell you a lot, but you have to listen. "You'd be surprised," he said. I slept very well that night and dreamt a lot, but could only remember the dreams being of people and things in my everyday life. I didn't hear Kaho'olawe speaking to me in my dreams that first night.
A few of us hung out there after dinner, drinking hot cocoa and talking some more. We got to talking about Farley Mowat's book Never Cry Wolf, which came to mind because of all the mice on the island. It was a great group of people. Among a handle of others, there were a couple of our hosts from the PKO, including the guy in charge of the water project and reforestation/revegetation work who lives off-grid in Ha'iku on Maui. A UH student from Moloka'i had also grown up without electricity – both were used to going to bed and waking up with the sun. There was a professor from UH Manoa, and a neuroscientist from USC and her husband, who is with the American Friend Services. The Friends do work on peace and justice issues and have an interest in the return of Kaho'olawe to the Hawaiian people, I learned.
The atmosphere on the island was relaxed. Breakfast the next morning – a work day – was hearty and solid: it was oatmeal, to which you could add granola, raising, peanut butter, guava jelly and or honey, and it was at 8:30 or 9, not at the crack of dawn. Things got planned and done, but at a good and relaxed pace. There was no hurry.
Some people, mostly men, hiked up after breakfast to work on the watcher catchment. I'd hiked up there the day before to look at it, and what a beautiful view from that point: Lana'i off that way, Maui over there. You could only see the water tank, which was painted camouflage, from the beach if you knew it's there and looked for it.
Most of the women stayed down at the camp. Tom, from the PKO, said a bunch of 'ōhi'a logs we'd brought on the boat needed to be moved from the beach to the thatched hale they'd constructed on the island, where they would replace some that were rotting. He said, thinking out loud, "They're pretty heavy, though. Some of them weigh up to 200 lbs. If they don't get moved this morning, that's okay."
A young college student spoke up in a strong voice. "Hey, we're women!" she said. "We can do anything!" It was an empowering and rallying call and I think we all stood up straighter. We worked together and easily moved every one of those logs, and then a bunch of other, longer and thinner ones that needed to be moved, as well.
Afterward some of us women hiked out to the "bathing beach," about a half mile off and kapu after 4:00 for women only. Fresh water is a precious commodity on Kaho'olawe, and it's not wasted on bodies.  The bathing beach is a sandy beach where you easily walk into the ocean and wash your hair and clean off red earth of Kaho'olawe off your body. Your feet (and the rest of you) get very dirty with the island's rich-colored red-brown dirt. They call it a Kaho'olawe tan. I felt very clean and renewed afterward.