I learned to thatch on Kaho'olawe. We'd brought big bundles of pili grass over with us on the boat, and then passed them hand-to-hand to shore. At the hale (structure) that the Protect Kaho'olawe 'Ohana (PKO) constructed on the island, my friend and I learned how to take a small chunk of it and tie it into place.
You take a handful of the dried grass (which I learned was actually, in this case, broomsage grass) to about the thickness of three cigars, and then hold it up to the piece of nylon cord tied to the small log. You take the cord and go across the front of the pili, behind the log, behind the pili, down in front of the log, and around the cord twice. Then tug it hard, and work it back and forth in both directions to tighten it. Then you move on to the next one.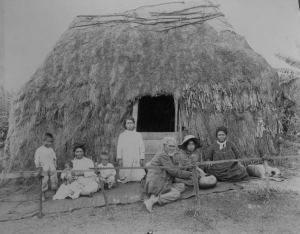 I really liked it. When, very occasionally, I work with lauhala or make lei and do some other kinds of handcrafts using natural materials, I'm always reminded again how much I enjoy doing that, and always wish I had the time and energy and room in my life to dive deep into it and learn to do it well. Our modern lives can be so removed from having the time and space for that sort of thing, or at least mine is.
Some people manage to build a life around the crafts that are important to them, and I admire that. So many of us, though, live busy, run-around lives that the old Hawaiians with their old-style lifestyles might have a hard time understanding. The traditional style – where families and communities live near each other, and share, and help, and where people make and gather what they need – makes so much sense to me.
That's pretty much how life worked on Kaho'olawe, and I liked it.
Dinner that night was rice, shoyu chicken, and dried and fried fish (fresh that day). I helped make cole slaw (cabbage and carrots, rice vinegar mixed with sugar, and some mayonnaise). And after dinner some people sat around talking and Tom made 'awa. He boiled a huge pot of water, and then squeezed some powdered 'awa in a red bandana into the water. We all had some while we talked and it was good. A man played Hawaiian music on a young boy's 'ukulele and sang, and at one point a lovely, tall, elegant woman got up and did a beautiful hula. The little girls, too, danced some cute hulas, and there was a lot of laughing and singing and talking. It was so much better than TV or even Netflix.
During our stay there, I heard murmured stories about what people had occasionally seen on Kaho'olawe, where it's quieter in just about every way and so it's easier to see and hear. Seeing a person out of the side of the eye, again and again. A feeling that someone was following him around, for days, and then a kupuna back home saying, "You brought someone back with you." Dreams. "Seeing" a child crying on the ridge.
The Hawaiian friend I traveled with barely slept for four days. She saw someone standing in the trees at night, a woman, and told me about it the first morning. She had been unable to turn away and sleep. The woman was there again the second night, and again she barely slept; it was starting to show on her face. That second night, she woke me up. "Do you see her?" I looked, and you know what? I did see her. But the woman didn't bother me the way she did her. She watched the woman and I went back to sleep. I don't know what it meant, but I don't think it was meant for me. I never knew what that experience said to her.
Kalei told us that in 1992 they had a ceremony on Kaho'olawe to dedicate a place they were restoring, and helicoptered in legislators from Honolulu for it: Dan Inouye, Pat Saiki, Patsy Mink, John Waihe'e, lots of others. The legislators all sat on the cornerstones and promised to always consider, in their legislation, the well-being of Kaho'olawe for seven generations – with the knowledge that if, after agreeing, they didn't keep their word, their spirits wouldn't lele (leap to the next place when they died).
When we left Kaho'olawe, it was just the reverse of arriving but also different. We packed our things to be passed through the ocean to the boat – but without quite as much care this time, because if the clothes got a little wet, oh well. We made a human line from shore to pass all the gear onto the Pualele. Several people got stung by jellyfish as we prepared to leave, but nobody had a bad reaction. There were three boat trips to get everyone back to Maui, and we helped load each of the first two, and then sat, chatted, ate crackers and had coffee for an hour and a half until the boat returned.
We went out on the third trip, and this time it was rough weather. It was freezing standing in the water, and the sea was rough. The captain slowed down as we passed along the "inside" of the crescent of Molokini crater, and I counted 17 boats of all different kinds and sizes, from yachts down to Zodiacs and everything in between. One had a ladder from it down into the water and people were snorkeling right off the boat.
Then the captain sped up again, and we headed for Makena landing on Maui. And then a flight back to O'ahu, and on my way home I stopped at the Safeway in Manoa because I needed to pick up some food.
I was almost knocked over by the massive amounts of artificial lights inside that enormous grocery store; my eyes were physically pained. And I was struck by how there were people bustling everywhere, and hundreds of thousands of every type of item available for the picking up.
It had only been four days away from all that, where the sun was our light, choices were simple, and people weren't moving around in such a focused hurry, but the sudden transition back into our busy, hectic world was an enormous shock.
I was left with so many realizations from the long weekend on Kaho'olawe. That it's good there are still places where a person can observe and live a quieter lifestyle, get a glimpse into older Hawai'i ways, and help in a small way to preserve it. That it's important to hold onto those places and those ways. And that, if we're lucky, we can bring a bit of what we learn back home with us and fit it into our modern lives. Kaho'olawe really does have a lot to tell us, as one of the PKO members told us. I listened.  •  PAU