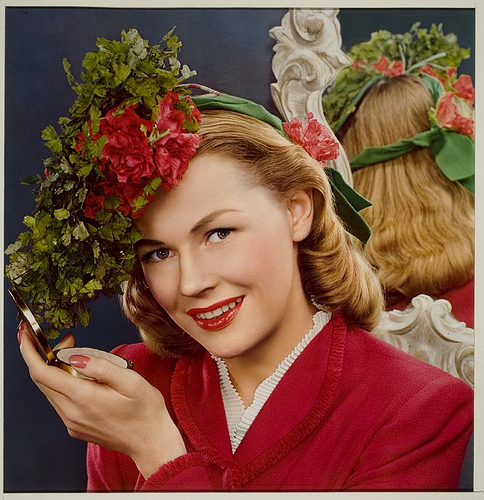 Cilantro is such a heated subject. People seem to either love it or hate it, and there's not much in-between.
My friend Kris and I were just saying so, and the next day a New York Times article appeared about this exact topic (thus confirming what I thought: that I partly control the world with my mind).
Kris is a cilantro lover. She sent me a recipe that had tons of the stuff in it.
I am not a picky eater, but cilantro (also known as coriander) tastes to me like something that has spoiled and should immediately be thrown away. I immediately threw away the cilantro recipe. Also, I would not be able to stand the wearing of this cilantro hat.
And then I read the New York Times article, and this:
Culinary sophistication is no guarantee of immunity from cilantrophobia. In a television interview in 2002, Larry King asked Julia Child which foods she hated. She responded: "Cilantro and arugula I don't like at all. They're both green herbs, they have kind of a dead taste to me."
"So you would never order it?" Mr. King asked.
"Never," she responded. "I would pick it out if I saw it and throw it on the floor."
I hear you, Julia. I too am a "supertaster" of sorts when it comes to cilantro. Though I have no beef, so to speak, with arugula.
The article goes on:
The authoritative Oxford Companion to Food notes that the word "coriander" is said to derive from the Greek word for bedbug, that cilantro aroma "has been compared with the smell of bug-infested bedclothes" and that "Europeans often have difficulty in overcoming their initial aversion to this smell." …
Some people may be genetically predisposed to dislike cilantro, according to often-cited studies by Charles J. Wysocki of the Monell Chemical Senses Center in Philadelphia. But cilantrophobe genetics remain little known and aren't under systematic investigation. Meanwhile, history, chemistry and neurology have been adding some valuable pieces to the puzzle. (Read more)
I don't believe we need to throw a lot of money and time into understanding the chemistry and neurology of why cilantro tastes like bug-infested bedclothes smell. There are certainly many things that are much more important.
But I related to this article and especially to Julia Child. I wish I'd gotten to sit next to her when cilantro was served. We would have tossed our bits of nasty-smelling and -tasting cilantro on the floor to such an extent that birds would have been gathering it up for their nests.
If birds like cilantro.