There's family history and then there's family history. I'm going deep.
I just swabbed the inside of both my cheeks, put the swabs into a vial, and stuck them in a package, ready to zip it off to National Geographic's Genographic Project.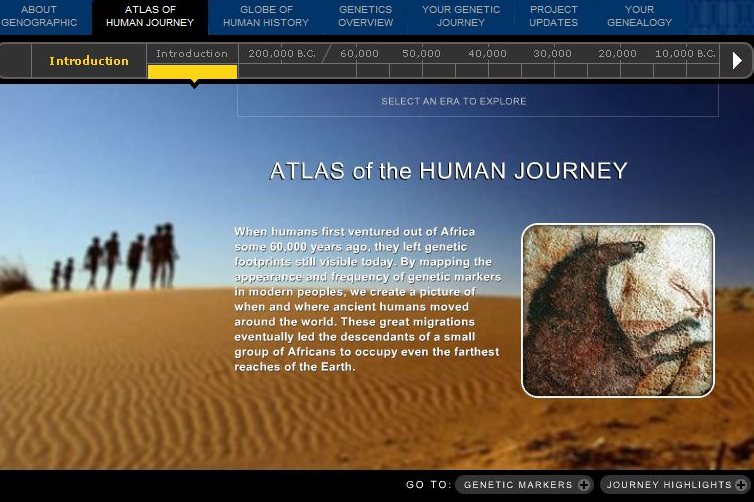 A short description of this project is that they are using cutting-edge DNA analysis to study how people populated the earth.
Here's a longer one:
The Genographic Project is a multiyear research initiative led by National Geographic Explorer-in-Residence Dr. Spencer Wells. Dr. Wells and a team of renowned international scientists are using cutting-edge genetic and computational technologies to analyze historical patterns in DNA from participants around the world to better understand our human genetic roots. The three components of the project are:
• To gather and analyze research data in collaboration with indigenous and traditional peoples around the world
• To invite the general public to join this real-time scientific project and to learn about their own deep ancestry by purchasing a Genographic Project Participation and DNA Ancestry Kit, Geno 2.0
• To use a portion of the proceeds from Geno 2.0 kit sales to further research and the Genographic Legacy Fund, which in turn supports community-led indigenous conservation and revitalization projects
The Genographic Project is anonymous, nonmedical, and nonprofit, and all results are placed in the public domain following scientific peer publication.
Soon I will receive analysis of my DNA that reveals my "deep ancestry."
Since 2005, the Genographic Project has gathered DNA data from more than half a million people (577,000!) from more than 140 countries.
This book, Deep Ancestry, Inside the Genographic Project, is by the study's director Spencer Wells (that's him above). I want to check it out.
In this concise and well-written work, Wells (The Journey of Man) provides an accessible introduction to genetic anthropology, the study of human history using genetic evidence. Wells is the director of the Genographic Project, which collects DNA samples from a wide array of world populations to better understand human history over the last 200,000 years. Wells does a fantastic job distilling both genetics and genetic anthropology into straightforward topics, presenting sophisticated material accessibly without oversimplification. He gives the reader the basic concepts (Y chromosomes, mtDNA, haplogroups, genetic markers) and then proceeds to step through genographic research from its 19th-century origins to the present day. In so doing, he takes the reader back to the 170,000-year-old female genetic ancestor of every person alive today: the so-called African Eve. It is a remarkable journey that will appeal to readers of all backgrounds interested in exploring the science and research behind human evolution, although those with more experience in the sciences may find some of the material elementary.
Copyright © Reed Business Information, a division of Reed Elsevier Inc. All rights reserved.
While helping scientists understand how humans populated the world, we learn more about our own family's migration route out of Africa. I find this all fascinating.
Because really, we know so little about our histories. True, a royal family might know, what?, several hundred or a thousand years of information about its forebears. Maybe a little more? And then there are cultures like the Polynesians and others who have very strong oral traditions and can tell the story of their people going extraordinarily far back in time. Which I also find fascinating, by the way.
But most people don't know the story of their ancestors over the last 60,000 years. Harper's magazine once estimated there have been 7,500 generations of people since the first Homo sapiens. Once many of those people left Africa, which way did they go, where did they settle along the way, and what brought us here?
Most people, groups, cultures, just do not hold on to that kind of information over that period of time! But it turns out our cheeks do.
For a woman, the Genographic Project analyzes thousands of genetic markers on her mitochondrial DNA, which is passed down each generation from mother to child.
But that would tell only part of my story, so guess what my brother got for Christmas?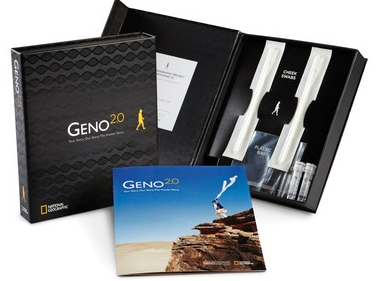 I got him his very own Geno 2.0 kit, and he swabbed his cheeks today too. Since his DNA includes the Y chromosome passed down from father to son, his results will tell us about the paternal side of our ancestral migration story.
Everyone's DNA is analyzed for more than 130,000 other markers, too, which reveal "regional affiliations" of your ancestry ("insights into your ancestors not on a direct maternal or paternal line").
Including — how interesting in this — our hominid cousins the Neanderthals and the newly discovered Denisovans. As we modern humans were first migrating out of Africa, more than 60,000 years ago, Neanderthals and Denisovans were still living in Eurasia, and we (okay, "scientists") now know that they met and mingled. Most non-Africans, according to the Genographic Project, are about 2.5 percent Neanderthal. Anyone with solely sub-Saharan African ancestors is not, because their ancestors did not migrate through Eurasia.
You can follow the Genographic Project on Facebook, if you're interested in learning more. Or read about the Genographic Project here. Or buy your own Geno 2.0 kit here.
So I'm off on an adventure. I am really looking forward to hearing the results of my DNA analysis (and my brother's). This modern technology! I tell you.
Here's an interesting article about DNA genetic testing: Genealogy enthusiasts mine DNA for clues to evolutionary history.
Have you done DNA analysis, whether with this sort of migration study or one of the ancestry ones, like Genetic Genealogy or 23andme? I'm really interested in that, too, and you know I will probably end up doing one of those someday, too.
Please comment below if you have participated in any of these DNA studies and tell us about it. Which project? How did you choose? What did you find out? I'd love to hear.