My father died in 1983, when I was 20 and he was only 50.
I don't know of any recordings of his voice that still survive, but I'd sure love to have one.
He died way before we were all walking around with cameras capable of recording video and audio in our pockets (or our hands).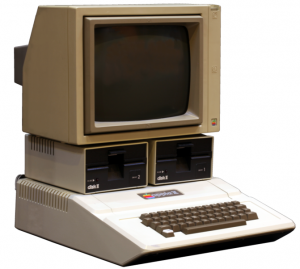 How he would have loved this digital age, by the way. Because of him, my family was an early adopter of the Apple II, with its Pong game and all, but really my dad missed about all of this digital era. He was a "techie" type, and there's no doubt in my mind that he would have loved it.
But nowadays, with all this readily available technology all around us, making it so easy, do we remember to videotape/audiotape our parents? Our grandparents? How often do we record our family moving around and talking, so we can show our kids and grandkids later? So that later they will still be real people, just like us, instead of just names on a page? So we ourselves can see and hear them again decades from now, like magic?
And if we do, I don't know if we always make sure to back up the recording and store it separately. And put it on a DVD, and label it. Does everybody think to make a few copies, and give them to different family members, or at least store them in different places, so they don't all perish in the same disaster?
It's so easy to do, whether casually or professionally (if you don't have the time, know-how or energy, we can help you with it here at Talk Story Press). And it's priceless to have later.
Verlyn Klinkenborg (is there a better name, by the way?) writes in the New York Times about getting his old voice back, after surgery to remove a papilloma on his vocal cord. And about voices that "recover memory and emotion and loss itself."
What would we know if we could hear the voice of Cleopatra? How odd would Napoleon's Corsican accent sound to modern French speakers? And what if we had two minutes of the voice of Shakespeare, who managed to leave so little of his personal self behind?
We might feel awe at hearing these voices, but very likely the recordings would be mere artifacts, overwhelmed by legend, deed and word. And these figures would still be strangers. It would be nothing like hearing again the intimate sound of a voice that has gone missing in your own life, a voice that recovers memory and emotion and loss itself.
Read his whole New York Times essay So Many Snapshots, So Few Voices Saved.
And don't forget to take advantage of this great technology we have all around us, and record your family members – their faces, voices and stories. Someday, you, and others who come along later, will be so glad you did.