When I read this excellent essay at NPR's website, I thought: That is why we take the time and make the effort to record people's stories, their personal histories. Because it's the stories that keep our parents, our grandparents, our siblings who died too early and cherished friends and great-grandparents and others from winking out of our memories.
From npr.org:
September 20, 2010
by ROBERT KRULWICH
Now that it's almost fall and there is a hint again of things passing, I think about a boy who once looked out a window, and wistful about time slipping by, he made it stop. Yes, he stopped time.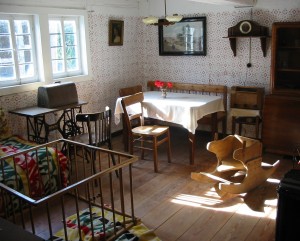 I love this story. It was told by Loren Eiseley, an anthropologist and one of my favorite science writers. Eiseley grew up in Nebraska and one day, when he was in high school, he happened to glance out the window and saw a junkman heading up a city street.
In 1923, junk men collected potentially valuable garbage and hauled it off for resale. This particular junkman, Eiseley wrote, had "a broken old horse plodding before a cart laden with bags of cast-off clothing, discarded furniture and abandoned metal. The horse's harness was a makeshift combination of straps mended with rope. The bearded man perched high in the driver's seat looked as though he had been compounded from the assorted junk heap in the wagon bed."
A few moments later, when the junkman and his wagon were about to round a corner at the intersection of R and 14th streets, Loren says he "leaned from a high school window a block away, absorbed as only a sixteen year old may sometimes be with the sudden discovery of time. It is all going, I thought with the bitter desperation of the young confronting history. No one can hold us. Each and all, we are riding into the dark."
That is when he stopped the world….  READ THE REST
This story fascinated me, and well-illustrates why I help people organize, record and publish the personal or family histories that are most important to them. It is so satisfying to help people keep their stories from disappearing. So the people in their stories stay alive for the people still to come.
So they don't wink out.