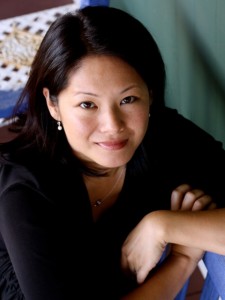 Darien Gee is a Big Island writing dynamo, and acquaintance, whose new novel Friendship Bread (Ballantine Books/Random House) comes out April 5, 2011.
It's a great read! I read some of it and really liked it. (It's so nice when you read the writing of someone you know and don't have to struggle to think of something nice to say.) I'm looking forward to the book coming out. She kindly agreed to answer some of my questions about her new book and her writing, and our Q&A follows. But first, if you'd like to know more, here's where you can:
You can buy the book here. Do! It's a good book, and you should support our Hawai'i writers.
This is Darien's fourth published novel. She's definitely got it figured out! Here's what she told me:
Q. Your newest novel's genesis came about when your daughter brought home some Amish Friendship Bread, which definitely makes the rounds and we've all had it. How old was she, and where did she get it?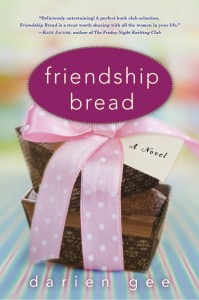 Were you the type to bake?
My daughter Maya was eight when she walked through the door holding a Ziploc bag of Amish Friendship Bread starter and a few slices of the bread. She'd received it from one of her homeschool friends.  I actually told her to forget it, that we weren't going to do it, but then I tasted the bread and I was hooked.
Q. Do you still have that starter going?
I do. I also have one that a friend gave me from 2006. Both are still going strong!
Q. Tell us how your novel idea formed from that.
On the day that Maya brought home the starter, I was standing in my kitchen eating the bread when I saw a woman in my mind with strawberry blond hair, regarding the bag of starter with the same initial apprehension. That was Julia. I could sense a sadness hanging over her, but I didn't know what it was about. I started writing that night.
Q. What's something you particularly like about this book?
I love the anecdotal characters of Friendship Bread, like Gloria the fortune teller, A.A. the biker, Connie the laundromat manager, and Clyde the pharmacist. They were a happy accident that ended up being an integral part of the structure of the book. I found they served two purposes: one, they showed how the bread was moving through the town and touching the lives of everyone in it, and two, they gave us a break from the intensity of the primary narrative. These characters were fun to write, because I got to stand in their shoes and just witness their lives spilling onto the page. I could see how their peripheral lives intersected with my main characters in an indirect, but sometimes profound, way. It was a good reminder about how interconnected we all are, and that we are not alone even when we think we are.
Q. Tell us about how you got started as a novelist; about deciding to sit down and write your very first novel. What made you do it? How old were your kids then? How did you do it?
Good Things was my first published novel, and I have one unpublished novel that I was offered representation on a few years prior. That story is now a little dated and I'm not sure I want to bother rewriting it versus starting something new altogether. Each time I read it, though, I fall in love with the characters all over again, so we'll have to see.Good Things was written when my daughter was four. Each subsequent Mia King novel coincided with the birth of another child, and you can see it in my acknowledgments. My last Mia King novel, Table Manners, was tricky because my deadline was a few weeks after I'd given birth, but it worked out well in the end.I had some writers tell me that writing with young children was too difficult and that I'd be better off waiting until they grew up, but I didn't want to wait—to be honest, I felt like I'd waited long enough. Friendship Bread, my fourth novel but the first one written under my own name, Darien Gee, will be published when my youngest is two and a half.
Q. How is it the process different now that you are on your fourth published novel? What has changed?
The process is the same. In some ways, Friendship Bread was a bit like starting over again—I ended up with a new agent, a new publisher, a new name (even though Darien is my real name, I'd never published anything by it). What changed is that I have more confidence about my work, about being able to tell a story that resonates with readers. I'm also better at navigating the business of writing.
Q. You seem to be publishing a book a year. Tell us about how you keep that up. What is your writing schedule/routine?
My original goal was a book a year, but then Friendship Bread took longer because in a way I was starting over. I don't have a schedule and every time I try to set one, I don't stick to it. I'm pretty disciplined when it comes to writing and edits, though, and I listen to my inner self—when it's time to write and things are flowing, I write. Even if I'm tired. Even if it's inconvenient. I'll tell my husband that it's time and we'll re-juggle our schedules. If I'm in a lull, I give myself the time off and not force myself to write. I trust the creative process but I do integrate deadlines and personal goals. Everyone is different but this seems to work well for me.
Q. The novelist Isabel Allende starts writing a new book every year on January 8th. Do you have any writing superstitions?
I don't have anything I would call a superstition, but I do have several processes. I rarely stop writing mid-chapter—I always write to a close. If I know I can't get there, I may not write at all that day and wait until I can. I cannot leave things hanging and when I do, it takes me forever to get back in and I just don't have that kind of time. I also seem to write better at night. I can work on edits or handle the business aspects of writing during the day, but when I'm working on a first draft, on a new story, I prefer darkness and solitude. I used to pass my husband and children in the hallways around dawn—I'd be heading to bed as they were waking up.
Q. What advice would you give to others who want to tackle writing a novel?
To go for it, to not give up. I have some tips on writing from a UCLA extension writing class. You can view them by going here (http://www.friendshipbreadkitchen.com/pantry/on-writing).
Q. What's your next project?
I'm almost done with the second book in the series. It's called Memory Keeping and picks up about six months after Friendship Bread ends, in the summer of the following year. Some familiar characters are back and some peripheral characters, like Connie, have moved to the forefront, and there are newcomers, too. There isn't that much Amish Friendship Bread in this book, but we've moved onto something just as appealing: scrapbooking, thanks in part to Bettie Shelton, founder and president of the Avalon Scrapbooking Society. It does move through the town but in a completely different way and for completely different reasons than the first novel.
Darien Gee is the author of three novels under the name Mia King: Good Things (2007), Sweet Life (2008) and Table Manners (2009), all published by Berkley Books, Penguin USA. Her fourth novel, Friendship Bread, will be published in hardcover by Ballantine Books in April 2011 and has sold foreign, audio, e-book, and book club rights.