It's Merrie Monarch week and it's absolutely the best week of the year here in Hilo. 
We went down to the Hilo Hawaiian Hotel this afternoon and watched the free hula performance by Puanani Crumb's Halau Hula O Hilo Hanakahi.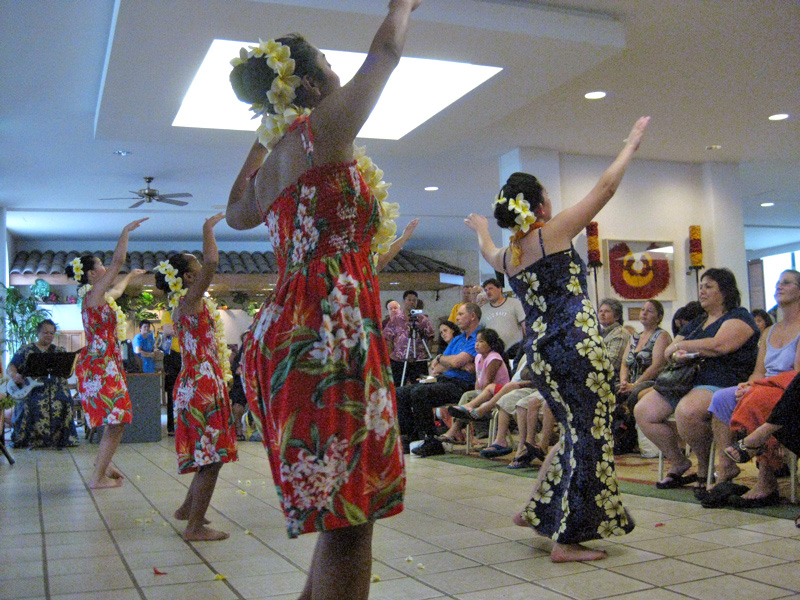 It was wonderful. The music, the hula, the crowd. Hula Legend Uncle George Na'ope was there, wheelchair-bound now, wearing a green running suit, white Crocs and then of course his hat and his wide gold bracelets running up his arm. 
I just love it all. The tiny kids who dance. The older ones who dance and who are so, so lovely. The crowd, appreciating. The smell of the plumeria lei the dancers are wearing. The emotion. The power of the hula. The stories.
Drew Kekaualua was singing with them, Pua's nephew, and she told a story about how he and his brothers would back up their mother when she used to dance to the song "U'ilani."
She said, "But then I realized they don't really know the song. And I wanted them to know it, so I taught it to them. And then I taught my alaka'i to dance it. I've never seen anybody dance that song."
She said she told her nephew (who has a beautiful voice) to sing it the way his mother used to sing it; not the way they all sing now.
So they played U'ilani, and he sang it the way his mother used to sing it, and her alaka'i danced. Pua dedicated the song to Drew's mother, Bobbie Kekaualua, who was in the audience.
It was beautiful. It was beautiful. Bobbie stood watching, rapt, her hands making the moves of the hula, a big smile on her face. She was moved. Afterward, she told me she cried.
I absolutely love Merrie Monarch week, when all the focus is on hula, and stories and beauty and all that culture comes to the forefront.