---
Day after day, month after month and year after year, I have shaped my life around words. (And my words around life.)
I have taken, and continue to take, many, many courses, classes and workshops. I have been edited myself, and read books and articles about using words, and written and edited hundreds of pieces of writing. I have learned from it all.
And in the course of doing all that, I have become a strong wordsmith.
Editing is one of my superpowers. It's not as flashy as scaling skyscrapers or similar, but it does come in handy.

A Truth: If you are self-publishing a book, you must—in order to be taken seriously—spring for two things: professional editing, and professional book cover design.
I don't do cover design, but I can definitely help with editing.
This article, showing what are purportedly some actual errors that got into print due to a lack of editing, is eye-opening. What if this were your book?
"An Australian publisher has destroyed 7,000 copies of a cookbook after a recipe called for 'salt and freshly ground black people.' The recipe, for spelt tagliatelle with sardines and prosciutto, was meant to call for black pepper, but a typo led a computer spell-checker program to insert the erroneous word."
That is an over-the-top example of the importance of editing, true, but much less dramatic errors will also cause readers to discredit you and your book.
This Huffington Post article 'Honor Your Readers, Hire an Editor' lists some of the comments at Amazon.com about one self-published book that wasn't edited well. Horrifying.
Your spouse, the English major, or your friend that's really good with words might help you with earlier drafts. But trust me: Once you're getting serious, you need to hire a professional editor who knows the business.
From Go-Publish-Yourself:
If you don't spend time and money with a good book editor, everything else you do to publish and market your book won't matter. A poorly edited book is a waste of time and money. Every dollar you spend promoting an error-prone book might as well be spent in Vegas. Read the rest
From www.forbes.com, Business section:
…Objectivity and professionism are key, Galley said, emphasising the need for self-published authors to take care over the editing of their manuscript:
Editing is an imperative. It is what will set you apart from other self-published authors out there. Self-publishers think they don't have to put the work in, that people will be forgiving, but that's wrong. You have to be as good as, or better than, traditionally published books, and traditional publishers' editors are very good at their job.
Editing is the key to being taken seriously. You can do one or two rounds of editing yourself, but then you have to give it to other people because you're not objective enough to take it to a professional level." Read the rest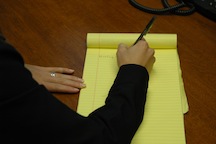 More on the importance of hiring a professional editor here, here and here. I could go on.
I edit self-published books (and other works) often, and am happy to help you with yours. Here are some comments I've gotten just this month from editing clients:
Thank you for your help on this project! Your work is first class. I think you're awesome."
"I must say I am absolutely impressed with your thorough work. Thank you again for doing this for me."
Are you self-publishing a book, or working on another type of writing that you want to ensure is as polished as possible?
I'm happy to talk with you about how we would work together. You can reach me at 808 964-1494 or leslie@leslielang.com.