When Isabella Bird was 19 years old, in Yorkshire, England in 1850, she had an operation to remove a tumor from her spine and the operation was "only partially successful." I'm not sure what that means, but it's written that afterwards she suffered from insomnia and depression and her doctor recommended, as so many did in those days, that she travel. I wish I had a doctor like that. Though I'm sure Kaiser wouldn't cover it.
Her father must have been a remarkable man, because four years after that operation, when she was 23 years old, he gave her 100 pounds and told her she was free to go wherever she wanted. Wow! Let's recap: She was a woman in somewhat poor health in Victorian England who took off and traveled the world, apparently fearlessly.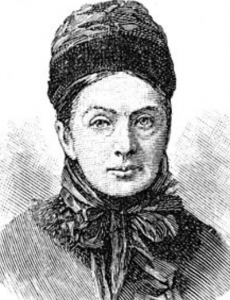 She traveled first to North America, and stayed for several months in eastern Canada and the U.S., writing letters home to her sister the whole time. Upon her return to England, she referred to those letters to write her first book, a work of travel writing and memoir called The Englishwoman in America. (The full text is online at that link.)
When her father died in 1858, she and her sister and mother moved to Edinburgh, which was her home for the rest of her life. She continued to travel, returning to North America three times and going once to the Mediterranean. Then, in 1872, she boarded a ship in San Francisco that was headed for New Zealand.
She decided to get off in Hawaii and she remained here in the islands for six months. I don't think any visitor ever had a fuller six months in Hawaii than Isabella Bird. She learned to ride a horse astride, instead of sidesaddle like a "proper" English lady, and journeyed to the top of Mauna Loa. She did not travel like an invalid, that's for sure. Travel seemed to agree with her.
Later, she wrote about her pleasure in "visiting remote regions which are known to few even of the residents, living among the natives, and otherwise seeing Hawaiian life in all its phases." She recorded her great stay in Six Months in the Sandwich Islands, published in 1875 (original title, The Hawaiian Archipelago: Six months among the palm groves, coral reefs & volcanoes of the Sandwich Islands). Full text here.
Though her books are often categorized as travel writing, they are also memoirs. "A memoir," says Gore Vidal, "is how one remembers one's own life, while an autobiography is history, requiring research, dates, facts double-checked. In a memoir it isn't the end of the world if your memory tricks you and your dates are off by a week or a month as long as you honestly try to tell the truth" (Palimpsest: A Memoir, 1995). Bird was a keen observer and we are the better for being able to read her memoirs, and get glimpses of the worlds she stepped into.
People live more happily than any that I have seen elsewhere.  It is very cheerful to live among people whose faces are not soured by the east wind, or wrinkled by the worrying effort to keep up appearances, which deceive nobody. —Isabella Bird, The Hawaiian Archipelago
My daughter and I went to look at Rainbow Falls yesterday, a beautiful waterfall in the Wailuku River that has a lot of Hawaiian traditions associated with it, and I always think of Isabella Bird there. She would be astounded to see it now. While the falls probably look about the same, here's how we got there: we drove our small SUV up Waianuenue Avenue, and then turned onto a well-paved, wide street that leads to the falls and then turned into its clear, open parking lot, which is large enough to easily accommodate the numerous tour buses that roll in and out of there every day. There are bathrooms there, too.
Here's how Isabella Bird got to Rainbow Falls, which was then known as Anuenue Falls (did you know that Waianuenue Avenue is named for its wai anuenue [rainbow waters]?), in 1872. They were on horseback (my emphasis): "Miss Karpe, my travelling companion, is a lady of great energy, and adept in the art of travelling. Undismayed by three days of sea-sickness, and the prospect of the tremendous journey to the volcano to-morrow, she extemporised a ride to the Anuenue Falls on the Wailuku this afternoon, and I weakly accompanied her, a burly policeman being our guide. The track is only a scramble among rocks and holes, concealed by grass and ferns, and we had to cross a stream, full of great holes, several times. The Fall itself is very pretty, 110 feet in one descent, with a cavernous shrine behind the water, filled with ferns. There were large ferns all round the Fall, and a jungle of luxuriant tropical shrubs of many kinds."
She traveled extensively after her stay in the Sandwich Islands, though she settled down in Edinburgh for awhile after her sister died of typhoid in 1880 and married her sister's doctor. He died just five years after they married and then she took off traveling again, and writing memoirs of all her great adventures.
It is a strange life up here on the mountain side, but I like it, and never yearn after civilization.—Isabella Bird, The Hawaiian Archipelago
Her works (this list is from Wikipedia):
Pen and Pencil Sketches Among The Outer Hebrides (published in The Leisure Hour) (1866)
The Hawaiian Archipelago (1875)
The Two Atlantics (published in The Leisure Hour) (1876)
Australia Felix: Impressions of Victoria and Melbourne (published in The Leisure Hour) (1877)
Sketches In The Malay Peninsula (published in The Leisure Hour) (1883)
The Golden Chersonese and the Way Thither New York: G. P. Putnam's Sons, 1883 

[2]

at 

A Celebration of Women Writers

A Pilgrimage To Sinai (published in The Leisure Hour) (1886)
Journeys in Persia and Kurdistan (1891) 

Volume 1

Among the Tibetans (1894) Available 

online

from the University of Adelaide, Australia.
Chinese Pictures (1900)
Notes on Morocco (published in the Monthly Review) (1901)
Her adventures included traveling alone on horseback from San Francisco to Lake Tahoe, riding alone through a blizzard with her eyes frozen shut, spending several months snowed in a cabin with two young men, and being wooed by a lonely outlaw (these stories are all from her A Lady's Life in the Rocky Mountains, 1879).
In Amritsar, India, she established a hospital named for her sister, the Henrietta Bird Hospital, and in Srinigar, the John Bishop Memorial Hospital, named for her late husband. In northern India, she met up with someone and traveled with him to Persia, crossing the desert in mid-winter and arriving in Tehran, it's said, half-dead. From there, she led her own caravan through northern Iran, Kurdistan and Turkey. She did many, many other interesting things in her lifetime; these are only a few.
She was the first woman inducted into the Royal Geographical Society (1892). When she died in 1904, at 72, she was in Edinburgh packing her trunks for a trip back to China.
There is also a dog, but he does not understand English. — Isabella Bird, The Hawaiian Archipelago
I am so glad she was compelled to write as she traveled and explored, and then to publish. It's as though she's speaking to us from the past and telling us all about how it was for her then.
It's worth mentioning, too, that many of the books above are available to read on Google Books for free, because they are out of copyright now. And many of them are free on Kindle.  I feel a binge coming on, and I'm off to do some downloading. If only there were more reading hours in the day!