Wallage Stegner's Pulitzer Prize-winning book Angle of Reposeis on my list of favorites. Wow. Stegner once said, "It's perfectly clear that if every writer is born to write one story, that's my story," and I get it. I've got one of those in my head, and maybe that's why I recognize and am so drawn to his.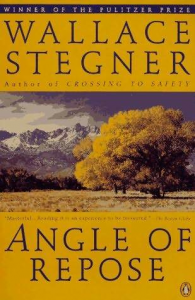 It's a novel in which a retired and wheelchair-bound historian sets out to write a biographical account of the lives of his extraordinary grandparents, who went West a hundred years before and carved out a life for themselves on the frontier.
Angle of Repose is a 1971 novel by Wallace Stegner about a wheelchair-using historian, Lyman Ward, who has lost connection with his son and living family and decides to write about his frontier-era grandparents. It won the Pulitzer Prize for Fiction in 1972. The novel is directly based on the letters of Mary Hallock Foote, later published as A Victorian Gentlewoman in the Far West. 
Lyman Ward narrates a century after the fact. Lyman interprets the story at times and leaves gaps that he points out at other times. Some of the disappointments of his life, including his divorce, color his interpretation of his grandparents' story. Toward the end of the novel, he gives up on his original ambition of writing a complete biography of his grandmother.
Stegner's use of Mary Hallock Foote's historical letters gives the novel's locations, Grass Valley, Leadville, New Almaden, Idaho, and Mexico, an authentic feel; the letters also add vividness to the Wards' struggles with the environment, shady businessmen, and politicians. Lyman's position in the contemporary culture of the late sixties provides another historical dimension to the story. Foils for this plot line include Lyman's adult son, a Berkeley-trained sociologist who sees little value in history, and a neighbor's daughter who helps transcribe Lyman's tape-recorded notes while she is home on summer break from UC Berkeley, where she has been active in the "hippie" counterculture movement. – Wikipedia
So it's a novel, albeit one using primary historical sources, about a biography. It's a little complicated to describe, but it works.
This article, which I just came across, calls it "an investigation into a life. But whose life?"
Ostensibly, it explores the life of Lyman's grandmother, illustrator and writer Susan Ward, reconstructing it from sources including her letters and notebooks as well as her published writings and drawings. And a very interesting life it is, too: from an elegant, cultured existence in Brooklyn Heights, surrounded by sophisticated people and domestic luxuries, she moves west with her engineer husband Oliver to places that, in the 1870s, were still works in progress as outposts of American civilization. As jobs come and go and hopes rise and fall, they move around, from California to Colorado, from Idaho to Mexico, each time in a new way re-establishing themselves as at home.
In all his guises (as narrator, as Lyman, as Susan), Stegner writes wonderfully about the landscapes of their travels. (So too, perhaps, does Mary Hallock Foote, the real 19th-century woman on whom Susan Ward is based and some of whose letters are incorporated verbatim into the novel. I say perhaps because her materials are not identified so I don't know what words are hers.) The descriptions are never conspicuously stylish or artful. They are just wonderfully specific and tactile:
"They came out onto a plateau and passed through aspens still leafless, with drifts deep among the trunks, then through a scattering of alpine firs that grew runty and gnarled and gave way to brown grass that showed the faintest tint of green on the southward slopes and disappeared under deep snowbanks on the northward ones. The whole high upland glittered with light." Read the rest
Three thumbs up. Here's what others say about it if you are interested in learning more. I'm hoping to talk you into reading it. One likes to share one's favorite things.
Publisher Comments:
Angle of Repose tells the story of Lyman Ward, a retired professor of history and author of books about the Western frontier, who returns to his ancestral home of Grass Valley, California, in the Sierra Nevada. Wheelchair-bound with a crippling bone disease and dependent on others for his every need, Ward is nonetheless embarking on a search of monumental proportions to rediscover his grandmother, now long dead, who made her own journey to Grass Valley nearly a hundred years earlier. Like other great quests in literature, Lyman Ward's investigation leads him deep into the dark shadows of his own life.
Reviews:
"Brilliant….Two stories, past and present, merge to produce what important fiction must: a sense of the enhancement of life." Los Angeles Times
"Masterful….Reading it is an experience to be treasured." The Boston Globe
"Cause for celebration….A superb novel with an amplitude of scale and richenss of detail altogether uncommon in contemporary fiction." The Atlantic Monthly
"A fine novel, engrossing and mature…for when all is said individual lives are very much like bits of detritus, rolling down from the high places of stress and emotion until they reach that place where the tumpling and falling stops and they find their angle of repose. To chronicle this movement as well as this novel does is high art and first-rate writing." San Francisco Examiner & ChroniclE