Our recent Historic Architecture Tour of Hilo went great! It was the second in a series of three tours we give on the Big Island each fall, and this one focused on "Gathering Places."
These tours, which are offered through Lyman Museum, are so much fun to research and lead.  It was Judith Kirkendall who designed them and she has brought me on to help. Judith is a historian and anthropologist (her dissertation was on the anthropology of food), lived for many years all over the world, and was formerly a University of Hawai'i dean. She is just a lovely, interesting person. I am so fortunate to be able to work with her. We have so much fun working together.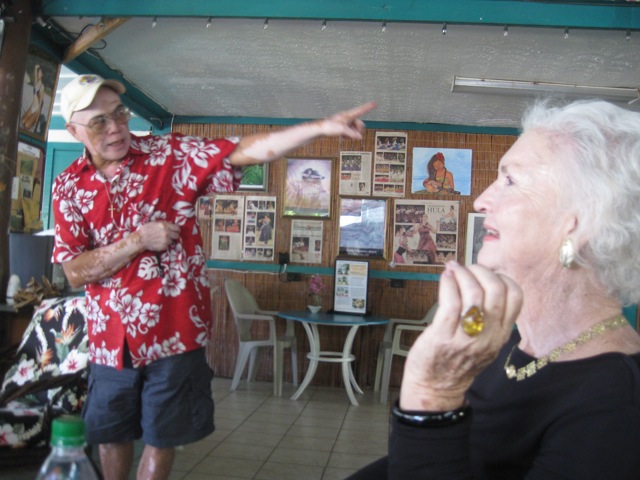 Judith Kirkendall
East Hawai'i, of course, has so much interesting history, and one of the fun things about our tours is that we can sneak people into places one doesn't ordinarily get to see. Among many other places, we went into the Kaikodo Building and up into what was formerly its very interesting Masonic Lodge to examine the architecture – even though the Center Stage Dance Studio has recently moved in there. We talked to them in advance and got permission to have a look around even though they had a class in session! It was generous of them.
We heard all about the Koehnens building's history,  and even went into its basement where we got to peak into a cement channel where the Wailuku River courses underneath the store. You can see the river swooshing by! I mean, you could reach down (not too far) and touch the water! Owner Karyl Franks told us some great stories about the building, how it was built, tsunamis, and how they keep that river from flooding the place.
We ate our bento lunches (included in the tour) at the Wild Ginger Inn in Wainaku, which has quite a history of its own. Its owner showed us around and told us about how it was formerly a hotspot bar/nightclub. One of our tour participants recalled going there in the 1950s when a stripper from Punahou School was performing. It's much calmer there now.
There were many other stops as well – I'm just telling you some of the highlights – and then we ended up at the Japanese tea house at Lili'uokalani Gardens, where we talked about Japanese architecture, brought over by Japanese carpenters who immigrated as plantation workers.
The women of the tea house put on a tea ceremony demonstration for us, and it was an absolutely perfect way to end our busy tour. I think everything seemed to leave the tea house feeling a bit more calm and centered than when we arrived there.
Our next tour, also a guided van tour that starts at the Lyman Museum and runs from 9 a.m. to 2 p.m., is on Saturday, December 17th. It's on domestic structures – or another name for it might be "Historic Homes." Sign up for it by calling Lyman Museum at 935-5021, if you're interested, and don't wait 'til the last minute because we fill 'em up.
And stay tuned for news about a brand new tour series, on a new topic, that we'll be premiering starting in February. It's going to be neat, and I'll tell you more about it here soon.