Local excursion #2 of our Summer of Exploration was a slow, winding drive down the four mile, scenic route that diverts from the highway and runs along the coast, more or less, between Pāpa'ikou and Pepe'ekeo.
This used to be the main road, I told my little girl. This is the way people used to go to get to Hilo town a long time ago, I said, and we talked about how the road is smaller and much more winding, and how they must have driven much slower than we do now.
I told her that what's now Highway 19 used to be railroad tracks, where trains ran up and down the Hāmākua coast carrying sugar from the sugar mills to the harbor, where the big sacks of sugar were put onto ships and sent to the mainland. "To California!" she piped up. Yes.
And also people rode on the train, I told her, and we talked about how there were railroad stations up and down the coast where you got on and off the train. I told her that when my grandmother, "Tutu," was her age, she used to take the train to go to town with her mother. We both thought about what a different time that was.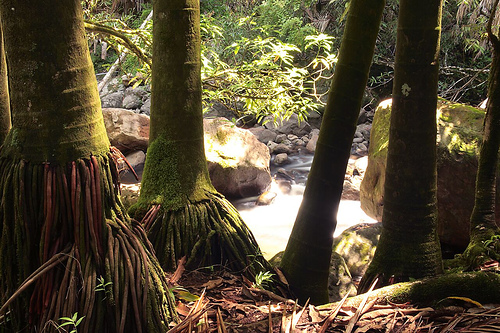 At least to my eyes, it is still a bit of a slower, older time along that four mile drive. I like it. It is quiet there — and while certainly there are probably people along that route living busy, 21st century lives, you don't see much of that from the road. Mostly you see families living in houses where there families lived for a long time before them, eating fruit from the same trees their grandmothers picked to make jam, playing in the streams.
"Papa's grandparents were married in that church," I tell my daughter every time we pass the little church near the Pāpa'ikou end of the scenic route. Once when we visited new friends near there, we learned that the woman was the priest's daughter. She recognized my husband's name and showed us his grandparents' names in the book her father had kept his records in.
I donʻt know why I feel compelled to tell that to my little girl every time we pass, but I find that I do. Someday, when she looks at that church, she will think about that. Maybe she already does. It will be one more place she has a small connection to, and two people who came before her might feel a little bit more real.
Even aside from its wonderful history, the marked "heritage route" is a beautiful drive. Luxuriant jungle, bridges over streams and rivers, waterfalls right alongside the road…
I told my daughter about the Onomea Arch — a rock formation over Onomea Bay that you used to see from the road, until one day when it fell and was no more. Some artists painting it nearby saw it go.
Lots of things are gone now. But while we live and enjoy our lives here in the present, with what's here right now, we will remember some of them and take them with us into the future.