Aunty Dottie Thompson and George Na'ope, together credited with starting Hilo, Hawai'i's Merrie Monarch Festival 46 years ago, are both looking frail this year, and both attended the festival briefly on the final night in wheelchairs.
Still, one can always count on Uncle George to look absolutely resplendent.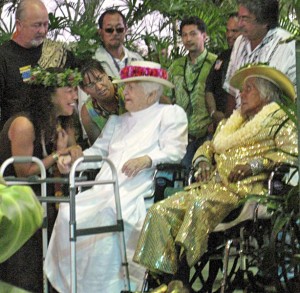 Re·splen·dent   (rĭ-splĕn'dənt)
adj.
Splendid or dazzling in appearance; brilliant.
[Middle English, from Old French, from Latin resplendēns, resplendent-, present participle of resplendēre, to shine brightly : re-, re- + splendēre, to shine.]
Splendid. Dazzling. Brilliant. He definitely still shines.