Edited on 4/21/09 to add: And an earthquake, too! My visiting friend is having the full Big Island experience.
From the USGS: A light earthquake occurred at 4:58:09 PM (HST) on Tuesday, April 21, 2009 . The magnitude 4.2 event occurred 7 km (4 miles) NNE of Ka`ena Point.

I have a dear friend visiting from the mainland, and today there is big time vog here in Hilo. It look as if you might have to push through the voggy air with your hands in order to walk.
I feel terrible when a friend is visiting our lovely, usually sparkly town and Hilo puts on her all-time ugliest dress.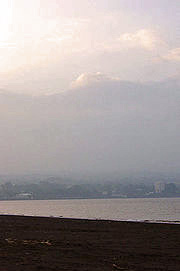 Volcanic fog. It's stuff that can make your eyes burn and that you can taste in your throat. It can be a huge problem for people with asthma or other respiratory problems. I have a cold right now and I feel the vog in my lungs; fortunately, this will pass.
Thank goodness it is not usually like this.
Hilo is truly one of the prettiest cities I've ever seen. It rains a lot and then it sparkles, and is blue and green in all the right places. The water shimmers. And the gentle tradewinds generally whisk away all the bad stuff, leaving us with air that is crystal clear.
It sounded so defensive today when I muttered that it isn't usually like this. "It really isn't." (Defensive.)
What's a person to do? We went for a long walk in Lili'uokalani Park anyway, and pretended we could see clear to the other side.
The trades will come back and the air will clear, and soon everything will be all right again. Tomorrow is another day.