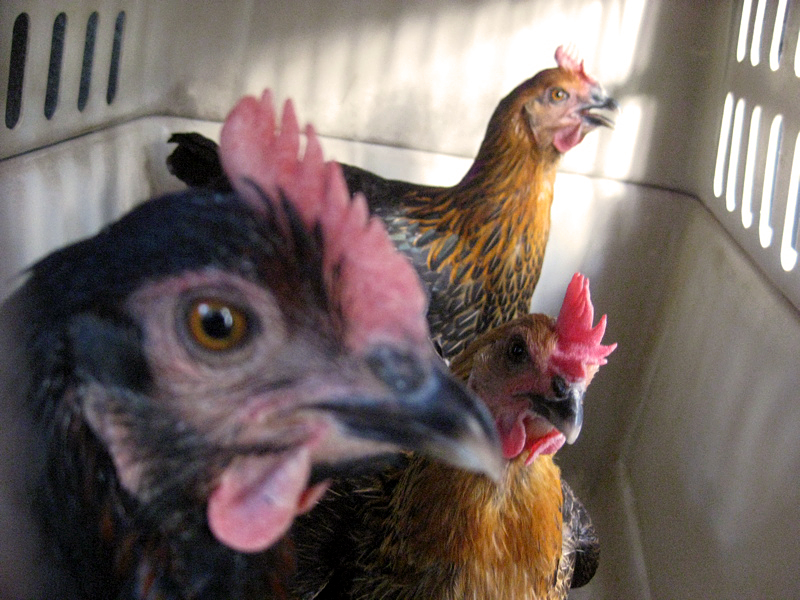 We got chickens a week or two ago, and I am just loving the whole thing. I am a first-time chicken owner, and I'm surprised at how much I'm enjoying them.
We bought six hens, and transported them home in two travel dog kennels. There we set up a coop for them, with feed and water and nest boxes, and a couple branches up high where they roost at night.
We kept them in there for a few days, so they'd know that was their laying place and night home, but now they are ranging free during the day. They are fun to watch. I can't explain why — they are, after all, just chickens — but it is satisfying to watch them roam around and explore our place, and strut and peck and make their occasional noises and take short, noisy flights over the flume.
We save our food scraps in an old margarine tub — the bread crusts my daughter sometimes peels off her sandwiches, and all the leftovers, as well as any food the cats and dog didn't eat the day before — and I take them out in the morning and they eat it all. (Well, there are still peels from red- and white-striped beets on the ground, but they have eaten everything else.) And we give them poultry feed twice a day, and a bit of scratch here and there, too.
They also like liliko'i, ulu and avocados, which we have growing in abundance. They are fat and happy, I think.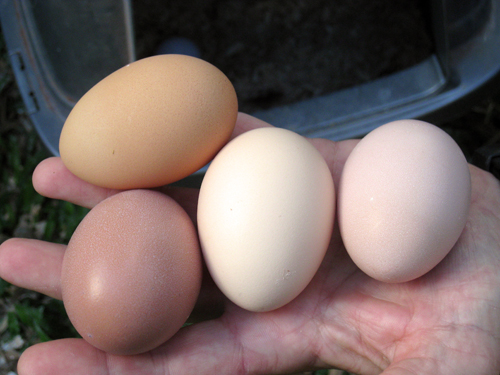 Our six girls had been giving us anywhere from two to five eggs a day, most often three to four. But, suddenly, we are only getting two eggs a day. And both yesterday and today, we found one egg in an unexpected place. I sent my daughter on an Easter egg hunt in case the girls have "gone rogue" and are laying in the wild, but if that's the case we have not yet found their spots.
The guy we bought the chickens from, who has been great about letting me email him with questions — he has been conducting our instruction in Chickens 101 — said this might mean we need more nest boxes. They will wait for awhile, he said, but if they really need to lay the egg, they'll lay it anywhere.
I will get another box tomorrow and see how that goes.
For Christmas, we gave my daughter's kindergarten teacher and also the teacher's assistant pretty lauhala baskets tied up with fancy red bows — and filled with our fresh, organic, free-range eggs. Is that weird? I know it is.
I told them, "This will be the quirkiest gift you get this year, but we hope you'll like it."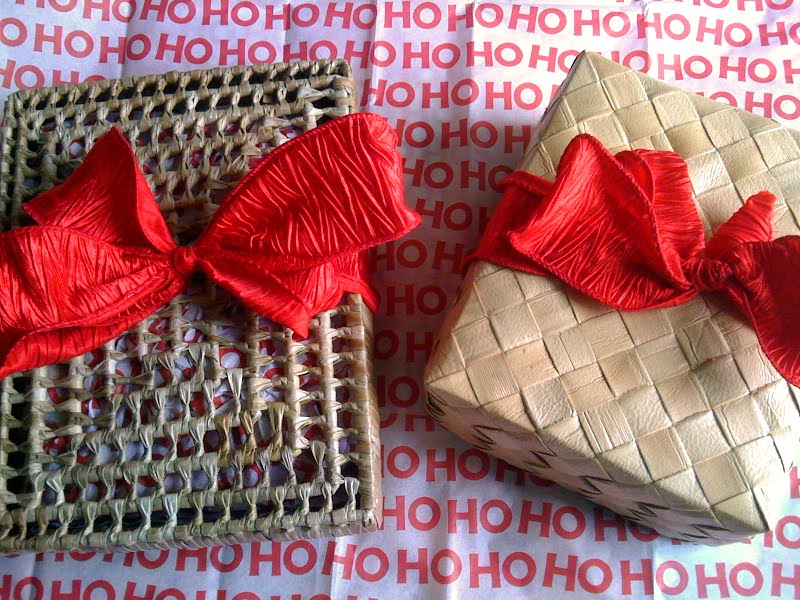 I liked giving them eggs because not only is it neat to have fresh eggs, these are consumable — no clutter — and then they can either use the basket, or wrap a gift in it and send it along. They seemed to like them.
We are having so much fun getting eggs from our own hens, and watching them strut around and live their lives.