In June of 1994, I was a very busy student at the University of Hawai'i at Manoa, earning a master's degree in anthropology and taking a lot of Hawaiian language classes while working full time at an airline. An opportunity came up to go to Kaho'olawe with a group from the Protect Kaho'olawe 'Ohana (PKO), and I jumped at it. I knew that four days on Kaho'olawe – where there was no electricity, no houses, no roads – would be very different from the busy life I was living on O'ahu, and I was curious to meet the island itself. It's one you cannot visit on your own; you have to be with an authorized group.
Kaho'olawe, near Maui, is one of the major Hawaiian islands but it has no permanent residents. For decades it was used for live-fire bombing exercises by the Army. Now a dedicated group of people was working to restore the previously heavily bombed and barren island. They occasionally took small groups to the island, both to educate them and to get some help with the work.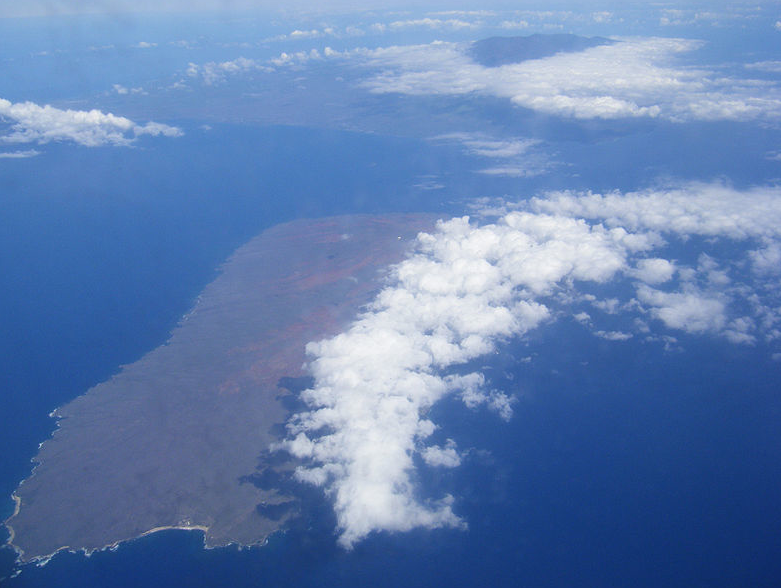 From Wikipedia:
Kahoʻolawe (/kəˌhoʊ.əˈlɑːwiː/; Hawaiian: [kəˈhoʔoˈlɐve]) is the smallest of the eight main volcanic islands in theHawaiian Islands. Kahoʻolawe is located about seven miles (11.2 km) southwest of Maui and also southeast of Lanai, and it is 11 miles (18 km) long by 6.0 miles (9.7 km) wide, with a total land area of 44.97 square miles (116.5 km2). The highest point on Kahoʻolawe is the crater of Lua Makika at the summit of Puʻu Moaulanui, which is about 1,477 feet (450 m) above sea level. Kahoʻolawe is relatively dry (average annual rainfall is less than 65 cm or 26 in) because the island's low elevation fails to generate much orographic precipitation from the northeastern trade winds, and Kahoolawe is located in the rain shadow of eastern Maui's 10,023 feet (3,055 m) high volcano, Haleakalā. More than one quarter of Kahoʻolawe has been eroded down to saprolitic hardpan soil.
Kahoʻolawe has always been sparsely populated, due to its lack of fresh water. During World War II, Kahoʻolawe was used as a training ground and bombing range by the Armed Forces of the United States. After decades of protests, the U.S. Navy ended live-fire training exercises on Kahoolawe in 1990, and the whole island was transferred to the jurisdiction of the State of Hawaii in 1994. The Hawaii State Legislature established the Kahoolawe Island Reserve to restore and to oversee the island and its surrounding waters. Today Kahoolawe can be used only for native Hawaiian cultural, spiritual, and subsistence purposes.
My friend and I arrived at the Honolulu airport with our duffel bags and looked around for other people equipped like us, with water jugs and their belongings packed in plastic bags (there are no direct flights to Kaho'olawe, and you have to have some contact with the ocean to get there). It occurred to me that it sure took a lot of planning and packing and stuff to prepare to get away from civilization, at least the way we were doing it. But anything you need on the island, you have to haul in. There are definitely no Safeways or 7-11s on Kaho'olawe.
We spotted a couple others and together we flew to Maui, where more Kaho'olawe-bound people had gathered. We all jumped into various pickups and station wagons belonging to Maui members of the PKO. The Protect Kaho'olawe 'Ohana is the group that forced the end of the bombing of the island – at, it turned out, great personal cost.
In 1976, a group of individuals calling themselves the Protect Kahoolawe Ohana (PKO) filed suit in U.S. Federal Court to stop the Navy's use of Kahoolawe for bombardment training, to require compliance with a number of new environmental laws and to ensure protection of cultural resources on the island. In 1977, the U.S. District Court for the District of Hawaii allowed the Navy's use of this island to continue, but the Court directed the Navy to prepare an environmental impact statement and to complete an inventory of historic sites on the island. On March 9, 1977, two PKO leaders, George Helm and Kimo Mitchell, were lost at sea during an attempt to occupy Kahoolawe in symbolic protest. In 1980, the Navy and the Protect Kahoolawe Ohana promulgated a consent decree that allowed continued naval training on the island, monthly access to the island for the PKO, surface clearance of part of the island (10,000 acres), soil conservation, the eradication of feral goats and an archaeological survey. – Wikipedia
They dropped us off at Maui's Ma'alaea Boat Harbor, where we stacked our belongings on the dock in front of the Pualele, the boat we would take in the morning. Someone told us, "This is where you'll be sleeping, and we'll be back later." We spread our sleeping bags out along a grassy slope between two roads, right there in the middle of the boat harbor, and I thought 3:30 a.m. would come fast, but it didn't because I lay awake for a long time. My friend and I saw some tourists come out of a nearby steak house and ogle us; we heard them say, "Look at the homeless people!" That gave us the giggles.
It was a beautiful night. The full moon in the very pale blue-gray sky was making the ocean shimmer with silver. Straight ahead of where I lay on the dock, a tall, majestic-looking mast and a coconut tree waved back and forth in the breeze, the coconut tree making the bright moon peek in and out. I saw a shooting star.
We could tell when it was getting close to 3:30 a.m. because there started being some activity. In the bathroom I put on my bathing suit, shorts, a t-shirt and sweatshirt, we sealed our bags as tightly as we could with duct tape and then we formed a human chain from the line of plastic bags to the boat and passed it all onboard, holding it up out of the ocean. Then we got aboard ourselves.
The early morning boat ride from Ma'alaea and Maui, which took us along the Alalakeiki Channel, was glorious. We went along the Kihei side of the island and eventually passed the small, beautiful, crescent-shaped islet of Molokini. The air was so clear that I could see the Big Island beyond Makena. As the sun rose, it looked as though it exploded out of the top of the Maui volcano Haleakalā: an intense ball of light in the dawn sky, outlined and glowing.
We watched Kaho'olawe getting bigger and more defined, and then when we were close, a small Zodiac ferried us and the gear most of the rest of the way, in several trips. When it was my turn, I saw that they took us in close, and then we got out into the waist-deep ocean. Again, we formed a line from the boat to the shore and passed all the plastic-bagged goods, water bottles and food supplies to shore, hand-to-hand. A huge sack of cabbages was passed through the ocean, and I wondered if it would taste salty when we ate it. We stepped onto Kaho'olawe, and carried all the water and food up the marked stone trail to the well-established outdoor kitchen.
Then we went and found our campsite. We hung the tarp we'd brought above where we would sleep, to protect us from rain, and raked away keawe thorns with a rake from the tool shed there. We put down some of our large plastic garbage bags and spread out our sleeping bags atop them. There were tiny bold mice everywhere on that island, so we hung our snacks in a backpack from a tree.
Every time the Zodiac dropped off some more people from the Pualele, someone sounded a pū summoning us to the beach and again we went into the water to pass their things onto shore. It got easier each time, because all the kitchen stuff had come in on that first boat, and also because there were more people to help each time.
When we'd been approaching the island by sea, all I could see was a small dark rocky beach surrounded by keawe that looked dead and lifeless. But when we went ashore and got busy, I realized there were signs of life everywhere. Vegetation, and tiny but carefully marked cartons of "dry water," which was time-released water, I learned later, for the reforesting. Carefully laid paths. A nice kitchen area, with coffee, and an old Navy locker set up a smoker. There was fish in there, ulua, that first day.
In 1993, the Hawaiian State Legislature established the Kahoolawe Island Reserve, consisting of "the entire island and its surrounding ocean waters in a two mile (three km) radius from the shore." By State Law, Kahoolawe and its waters can only be used for Native Hawaiian cultural, spiritual, and subsistence purposes; fishing; environmental restoration; historic preservation; and education. All commercial uses are prohibited.
The Legislature also created the Kahoolawe Island Reserve Commission to manage the Reserve while it is held in trust for a future Native Hawaiian Sovereignty entity. The restoration of Kahoolawe will require a strategy to control erosion, re-establish vegetation, recharge the water table, and gradually replace alien plants with native species. Plans will include methods for damming gullies and reducing rainwater runoff. In some areas, non-native plants will temporarily stabilize soils before planting of permanent native species. Species used for revegetation include ʻaʻaliʻi (Dodonaea viscosa), ʻāheahea (Chenopodium oahuense),kuluʻī (Nototrichium sandwicense), Achyranthes splendens, ʻūlei (Osteomeles anthyllidifolia), kāmanomano (Cenchrus agrimonioides var. agrimonioides), koaiʻa(Acacia koaia), and alaheʻe (Psydrax odorata). – Wikipedia
When everybody was there, we stood in a circle near the shore and people from the PKO thanked us for coming. They said how important it is for people to see what they are doing there, and what it's like on the island, and why they keep coming back. We went around the circle and when I introduced myself, Tom, one of the people in charge, said, "We're very happy to have you here." I told him, very sincerely, that I was very happy to be there, too.
(to be continued)