I have a Google Alert set up for my name (do you?) and today I got an alert about how great I was when I did my comedy improv act in San Jose recently. 
I, um, don't do comedy improv (maybe some occasional, unintentional slapstick), nor do I frequent San Jose. But I'm glad to hear it was enjoyable.
Isn't it strange to find other people with YOUR name? Maybe somebody named Steve Smith is used to it. But I don't think my name is all that common, so when I occasionally stumble across another Leslie Lang, it feels so odd. Does anybody have any interesting stories about coming across someone else with their same  name?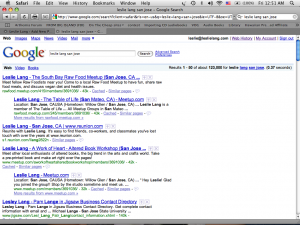 (If that Leslie Lang in San Jose has a Google Alert on her/our name, and runs across this post, wouldn't that be a little freaky for her?)