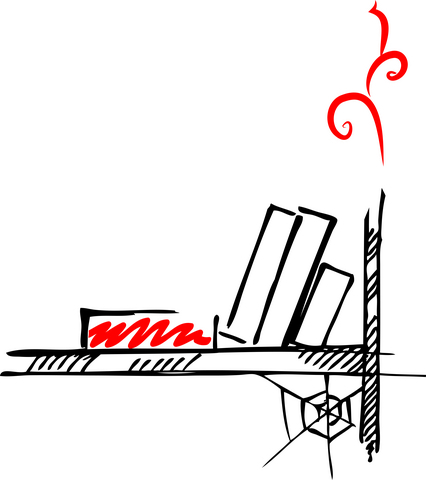 I guess it's no surprise there are so many books about writing. We writers need something to write about, and some of us write about writing.
Writing is a craft that I continually work on. In college I majored in journalism, and since then I have continued to take writing classes (both in person and online), participate in professional writers' groups and online forums, and sometimes in local writers groups—and I also read how other people have succeeded as writers. How they do it. Their tips.
They're just like us, most of those other writers. We're all just people sitting in front of a yellow pad of paper or a laptop, starting with a blank screen and a head full of ideas. Reading over the years about how some people have accomplished what they've done has helped me set goals for my own writing, and reach high.
I could read about writing until the cows come home. ("What cows?" asked my then-four-year-old with a puzzled look, once, when I used that expression.) Though it's best to put down the books and hit the keyboard from time to time.
Here are just some of the writing books on my shelves, which I've loosely grouped into categories here. I have learned from or been inspired by many of these.
BUSINESS
Early on I realized that you are only a hobbyist, and will likely get nowhere as a professional freelance writer, until you accept that it's a business and you need to be businesslike (in setting goals, where you focus your efforts, calculating your overhead and knowing how much to charge, protecting your copyrights, handling accounting, paying taxes and much more). Some creative sorts have to really force themselves to buckle down and learn the business aspect of being a self-employed writer. Here are some books that can help:
The ASJA Guide to Freelance Writing, ed. by Timothy Harper
This Business of Writing, by Gregg Levoy
Make a Real Living as a Freelance Writer, by Jenna Glazer
Six-Figure Freelancing, by Kelly James-Enger
BY WRITERS ABOUT WRITING
I don't know how to group these books, some of which inspired and convinced me I could quit the day job and live happily as a writer (they were right!):
Bird by Bird, by Anne Lamott
The Writing Life, by Annie Dillard
If You Want to Write, by Brenda Ueland
Becoming a Writer, by Dorothea Brande
Writing Down the Bones, by Natalie Goldberg
Living the Writer's Life, by Natalie Goldberg
Thunder and Lightning, Cracking Open the Writer's Craft, by Natalie Goldberg
Zen in the Art of Writing, by Ray Bradbury
Making a Literary Life, by Carolyn See
On Writing, by Stephen King
No Mentor But Myself: Jack London on Writing and Writers, ed. by Dale L. Walker and Jeanne Campbell Reesman
FICTION/NOVEL WRITING
What pondering these titles from my bookshelf tells me is that I have long wanted to delve more into fiction and novel-writing. But I knew that already.
On Becoming a Novelist, by John Gardner
On Teaching and Writing Fiction, by Wallace Stegner
The Art of Fiction, by John Gardner
Writing the Novel, by Lawrence Block
Writing Fiction, by Janet Burroway
How to Write a Book Proposal, by Michael Larsen
The Complete Handbook of Novel Writing, ed. by Meg Leder, Jack Heffron and the editors of Writer's Digest
MAGAZINE/NEWSPAPER WRITING
I have done an awful lot of this. I started out, long ago, writing an occasional freelance piece for the Honolulu Star-Bulletin, and then got a regular freelance gig working for Hilo's Hawaii Tribune-Herald, where I wrote features and entertainment articles every week. That was terrific in teaching me how to just sit down and do it. When I had several articles due each week, I also got over my reticence about calling people to ask questions. That was worth it all right there.
After that I started writing for magazines. More interesting, more in-depth, more time for craft. Yet it doesn't always pay enough to pay the bills. There are a few people who only write for national magazines and make a good living, but you cannot count on that these days. If magazine freelancing is your plan, you'd better start out with some other income, too.
The Art and Craft of Feature Writing, by William E. Blundell
Writing for Story, by Jon Franklin
Creative Nonfiction, by Philip Gerard
Story, by Robert McKee
Handbook of Magazine Article Writing, ed. by Jean Fredette
You Can Write a Column, by Monica McCabe Cordoza
The Renegade Writer, by Linda Formichelli and Diana Burrell
Travel Writing, See the World, Sell the Story, by L. Peat O'Neil
Literary Journalism, ed. by Norman Sims and Mark Kramer
MEMOIR
Living to Tell the Tale, A Guide to Writing Memoir, by Jane Taylor McDonnell
Inventing the Truth, the Art and Craft of Memoir, ed. by William Zinsser
ON WRITERS
It's aways fun to read how other writers do what they do. Computer? Typewriter? Pencil and pen? Schedules? Rituals? Isabel Allende always starts writing a new novel on January 8th, because that's the date she started her very successful (and wonderful) novel
House of the Spirits
. (It's one of my favorites.)
Writers on Writing, Collected Essays from the New York Times
The Writer on Her Work, by Janet Sternberg
The New New Journalism, ed. by Robert S. Boynton
COPYWRITING
Some of my work falls under the category of copywriting. These books were somewhat interesting as I started out writing for businesses, but I've found that I figured out a lot of it by myself, along the way.
The Well-Fed Writer
is currently a bible to some copywriters.
The $100,000 Writer, by Nancy Flynn
The Well-Fed Writer, by Peter Bowerman
Secrets of a Freelance Writer, by Bob Bly
The Copywriter's Handbook, by Bob Bly
RADIO
This is one of the few books from my long-ago college journalism days that I've kept. I have worked in public (and commercial) radio a little bit, and really enjoyed it. I keep the book in case I want to get back into it one day. Cool book.
Telling the Story, the National Public Radio Guide to Radio Journalism
LASTLY
And, my favorite title of all:
Too Lazy To Work, Too Nervous to Steal: How to have a great life as a freelance writer, by John Clausen
Image  Tanjaru | Dreamstime.com