Today I solved Problem Chicken. Problem, "Can't Let The New Puppy Run Around Because She Will Kill The Hens."
I got myself a Hubbell Bubble.
This all started with Mike and Liz Hubbell, who live in Puna, building themselves a chicken enclosure. Mike figured out an economical and fairly simple way to build one, and the result so impressed someone from the College of Tropical Ag here that the college is helping them promote it for local backyard chicken farmers. They call it the Hubbell Bubble.
I half got it because of the name. Well, not really, but I do love the name.
Mike and Liz have made the plans available, for free. Or if you pay for parts, they will build you one (they do it at home, in panels) and then bring it and put it up for you a small charge. It is very generous of them, and they do amazing work.
I only first talked to them about this two or three days ago, and then this morning they drove up with all the parts (which they built at home yesterday) on a trailer. I can't believe how fast it all happened. I love how fast it all happened.
Here is my dog saying, "Will you PLEASE get those chickens put away so I am not tempted to eat them and I can get OUT of here?" I say, "Soon, soon."
(She is a very happy dog despite everything and wasn't forlorn, as she seems in this photo. She never looks forlorn. She is a sweet happy puppy. Also, she does get out of there to play. And she has a very cozy sleeping area next door there for nighttime. But she will be happy to be out, free-range, with the other dogs again.)
We had an open-air coop we were using for the hens, but needed to move it. This picture below is of Mike.
Here (below) is here we were heading with it. It's a level spot my husband made awhile back for our daughter's swimming pool. The coop wasn't as hard to move as we had all feared.
Here's the coop in its new place. The chickens kept a close eye on what was going on all morning. They talked about it a lot, too. Where were we going with their coop? What was the meaning of all this?
Mike and Liz putting the already-made panels into place around the coop.
We had to sacrifice a banana tree to make room for this project, and we left it there inside the chicken enclosure because chickens like eating stuff like that. That's what that is, on the ground, inside there. It's kind of messy looking. You wouldn't want a messy chicken coop.
Framework for the top. The "bubble," as it were.
It didn't take long at all to get to the finished product! I present to you:
The Hubbell Bubble.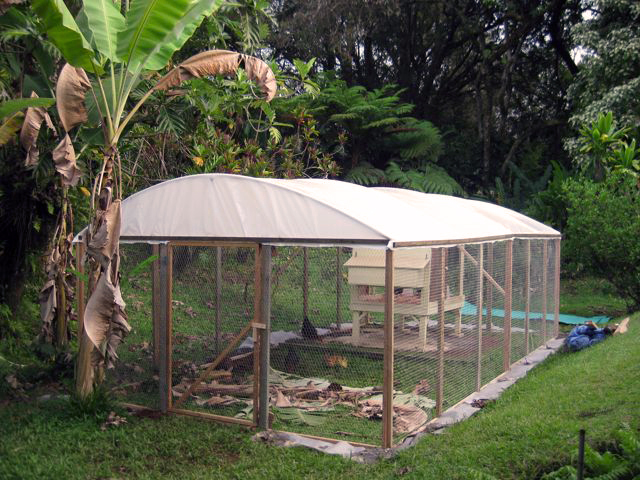 It's a Double Hubbell Bubble, actually. I decided we needed it to be 12 x 24, instead of the standard 12 x 12 they sometimes build. Our chickens need space.
We still need to put gravel down on the weed cloth along the edges. Chain link extends out from the bottom for a bit, and then there is weed cloth atop it, and then there will be gravel to hold that all down. This will keep out the mongooses and the dogs. That's the idea.
We are very happy with my new Double, No Trouble, Hubbell Bubble. We just love it.
Here's an early adopter of the new chicken accomodations.
"The girls" are roosting in there tonight for the first time. I'm really happy with their new Hubbell Bubble and hope they are too.
You can read more about the Hubbell Bubble at Liz's blog. Don't panic if you read the part about dogs breaking into their own chicken yard and killing some of their chickens. That happened, they are careful to explain, because they had modified their original design in a way that, it turns out, wasn't a good idea. They aren't doing that anymore.
I didn't know the Hubbells before arranging to have them build and put up my Bubble, so you can rest assured I'm telling you about this only because we're so happy with it.
They are very generous with their know-how, energy and help for others who want to raise some of their own food, and take care of their own needs. Neat people and it was great to meet them.
If you'd like to know more, or you'd like your own, you can reach Mike and Liz at 965-8235.